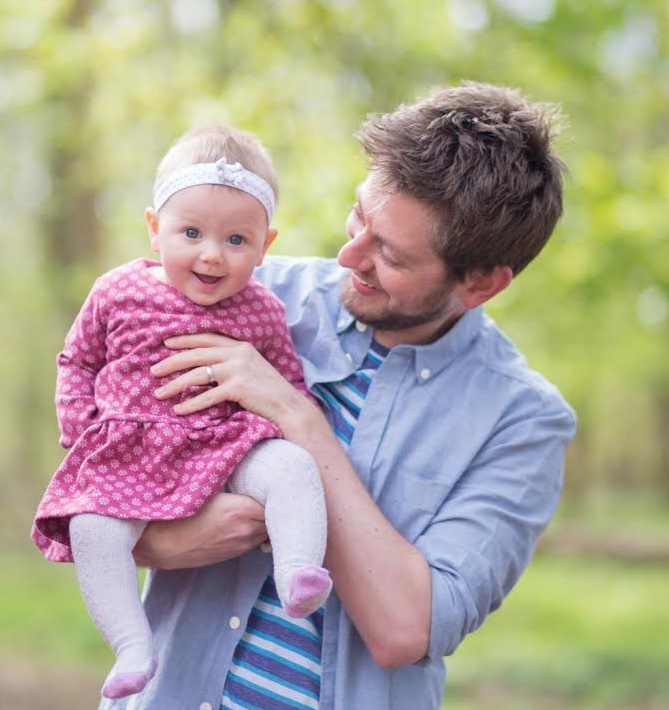 Father-of-one, Dave from The DADventurer started his blog in 2014 as a way to share his experiences of pregnancy and becoming a father for the first time. Living with his wife, daughter and their sausage dog, Dave's blog has recently shifted to now chronicle his life as a stay-at-home dad.
A Babies 'R' Us Babyologist product tester, Dave is clearly a very busy man so we were delighted he took the time to have a chat with us!
And considering the freelance writer's blog made it into the Top 10 UK Dad Blogs and the Top 200 UK Parenting Blogs, we already know that he is a good 'un!

1. What is the most important thing you have learned since becoming a dad?
It's a bit of a cliché, but since becoming a dad, I've realised just how quickly time goes by. At the time of writing, my daughter has just turned 10-months old, yet it feels like just the other day that I was at the hospital listening to a soundtrack of grunts, screams and heavy breathing as she popped into the world. Since she hit around six-months-of-age, time really has flown by, with every day seeming like she's becoming a little bit more of a person. In fact, in just over a week, she went from not being able to move to full on crawling and cruising which was great to see but now has me pulling out my hair! As time goes by so quickly, I've learned that it's important to live in the now and spend as much time with the sprog as possible - you won't get the chance to repeat.
2. What's the most ridiculous/hilarious/unbelievable thing your child has done?
Being a 10-month old baby, there's not many things that constitute as ridiculous, hilarious or unbelievable! However as she's started to crawl around more, we're finding that she has very dog-like tendencies... She's taken a particular liking to anything related to our sausage dog, and I might have caught her licking his dog bed, chewing his toys and dipping her hand in his water before, although I'm not going to admit that in case Social Services are reading. When at a friend's house, she also positioned herself on the floor under the high chair as another baby was eating so that she could hoover up any of the leftovers – just like Dax the dog does when she's eating in her high chair at home. Strange child.
3. What's the weirdest thing you've said/done as a parent?
I probably shouldn't admit to all of this, but there's been quite a few weird things I've done since becoming a dad. BUT, I will go to my grave arguing that they appeared to be the right choices at the time! When the sprog was a newborn, I'd often offer up my nose to test whether she was hungry and needing a feed – if she latched on, then she went to the missus' boob, if she didn't, then we knew she didn't need any milk just yet. I'll also admit to using her as a plate when she's been asleep on my lap – sometimes you don't have enough hands to do everything you need to, so I found that balancing my sandwich on her back worked pretty well.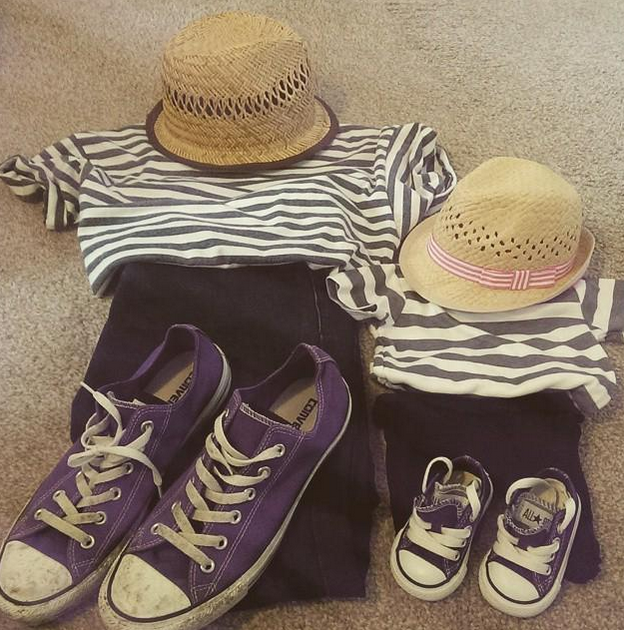 4. Name one thing you do that helps keep you sane?
Spending pretty much every second with the sprog, I think it's important to get a bit of 'me time' when I can. As the little one is still having a couple of naps per day, I find this the perfect time to just be lazy and not do much. Obviously I have more productive stuff to do like blogging, freelance writing work or doing stuff around the house, but I reckon it's also important just to chill out, which I tend to do by playing FIFA on the PS3. Hopefully, in a few years when she's a bit older, she'll be able to give me a decent game!
5. What is the best piece of advice you would give to other dads?
Just be relaxed and you'll pick things up as you go along. It's important to prepare in advance so you know what to expect, but every single baby is unique and will do things at their own pace. There's no point stressing over stuff or comparing your baby to others as it's just going to make an already challenging time of your life even harder. Just take any advice with a pinch of salt and focus on doing the best for your own sprog. You won't know what the hell you're doing most of the time, but you'll get there with a fair bit of trial and error. Just remember, there's not too many things you can do that will scar them for life!
6. If you had to choose just one thing that you absolutely love about being a dad, what would it be?
There's loads of things I love about being a dad, but I think the best thing is seeing this little human who we created, grow, develop and blossom into a little kid. Every day she learns or does something new, so there's a great pride that comes with knowing that we brought her into the world. When you think back to how it all started (I'll spare you the sexy details), it really is a little miracle that life can be created.
Check out The DADventurer and don't forget to follow Dave on Twitter and Facebook for daily updates.