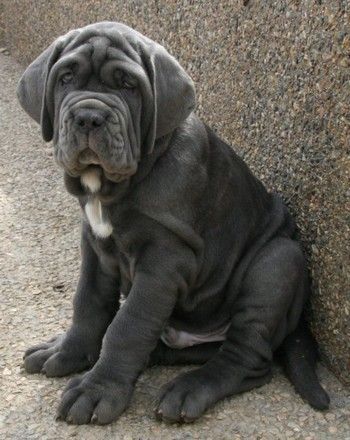 It's normal to slip your beloved pooch a scrap of food or two under the table, but some of the things you could be feeding him could result in him getting very sick, and can even be fatal.
It's a scary thought, especially when all we want to do is spoil our pets and make sure they're loved and safe. Before you slip your dog your next bit of leftovers, keep in mind these 10 items your dog should never have.
1. Chocolate
The sweet treat that's loved by humans is not going to be loved by your dog's body. The chemical in chocolate called Theobromine, which is similar to caffeine, could be toxic to your pooch. It's a natural stimulant found in the cocoa bean. Theobromine becomes toxic when it's ingested in 100 to 150 kilograms of body weight, which means the smaller the dog, the higher the risk. There's varying levels of Theobromine in chocolate depending on the type. The high amount of fat in chocolate is also dangerous to your dog.
2. Grapes and raisins
Tiny grapes and raisins can't really do much damage, can they? You'd be surprised. They can be toxic and fatal. Signs of poisoning include vomiting, dehydration, loss of appetite, and weakness. The most serious symptom is sudden kidney failure that's paired with a lack of urination. In some cases, poisoning by grapes and raisins can even cause fatalities. Some dogs have more severe symptoms than others, so it's still important to contact a vet immediately regardless of the amount of grapes or raisins that were ingested.
3. Avocado
While the substance called Persin in avocados - which is also found in the leaves and bark of the tree - is what makes a dog sick, dogs have different levels of a reaction to it. The effects can range depending on the amount consumed and the size of the dog. Some symptoms to keep watch for include vomiting and diarrhoea with symptoms worsening as the Persin sets in over time. Not all dogs are affected by the Persin, and it typically requires eating a substantial amount of avocado in order for it to affect them in a severe way. However, it's still not wise to take chances, especially in smaller dogs.
4. Onions
When ingested in large quantities, onions can be toxic to dogs as it can damage their red blood cells. Onions contain Thiosulphate, which can cause hemolytic anemia and essentially means that the red blood cells throughout your pet's body can start to burst. Onions in any form, including onion powder, are toxic to dogs, and even the smallest amount of it can cause poisoning. It's also possible for the toxicity to build up over time if your dog consistently ingests food with onions in it, especially with small dogs. It only takes a minimum of about 600 grams of onion to cause a severe health problem.
5. Salt
Too much salt can be extremely dangerous to dogs. It's not just the contents of a salt shaker that could be poisonous, but it can also come in the form of table scraps or snacks that humans feed their dogs. Additionally, it can also surprisingly come about from a romp in the ocean. Drinking too much salt water can be dangerous as well. Too much salt and your dog could experience vomiting or diarrhoea.
6. Dairy
There are many who believe a slice or two of cheese for a dog isn't a big deal, especially when they have to wrap up their pill in it, but it depends on the type of reaction your dog has to the lactose in the dairy product. Many dogs are allergic to it, and just like humans, could be lactose intolerant. While some dogs can have ice cream or a slice or two of cheese with no adverse reaction, for some dogs, it could lead to vomiting, diarrhoea, severe stomach upset, excessive gas, and weight loss.
7. Garlic
Just like onions, garlic in any form can damage a dog's red blood cells. Both, in fact, are part of the Allium family, along with leeks, chives, and shallots. Garlic is actually said to be more potent to dogs than onions. The damage from garlic typically won't happen with a very small dose, but when ingested continuously over time or when given in large doses, it could cause the dog to experience haemolytic anaemia, also known as the bursting of blood cells throughout the dog's body. Additionally, the dog could experience gastroenteritis, which is an inflammation of the intestines and stomach.
8. Macadamia nuts
Macadamia nuts are the most dangerous nut for dogs. The typical dosage that can cause poisoning is approximately 2 grams of nuts for every 2.2 pounds of body weight. However, sensitivity can vary from dog to dog. Considering many humans eat macadamia nuts that are also covered in chocolate, that can pose a double risk as both are dangerous for pets to consume. Signs of poisoning, which include depression, tremors, fever, muscle weakness, and vomiting, typically appear within 12 hours.
9. Peaches
Peaches are yet another surprising food that's toxic to dogs. It's one of the many foods that humans deem healthy but that can be extremely detrimental to dogs if they get their paws on it. However, it's not so much the fruit itself you have to worry about, but the pit. The pit contains cyanide, which could be deadly to your pooch if it's ingested, not to mention the pit could get stuck in the dog's digestive tract. Once a pooch starts eating the peach, he doesn't know better than to not eat the pit. Symptoms of poisonings include vomiting, diarrhoea, dizziness, and seizures.
10. Chewing gum
The substitute sweetener called Xylitol, which is also present in toothpaste and baked goods, can have a dangerous effect on dogs. Symptoms of poisoning from Xylitol include vomiting, seizures, lethargy, and lack of coordination. Some dogs may also experience bleeding in the stomach and abdomen as well as in the gums. Xylitol can actually cause the dog's pancreas to release insulin, which in turn, could cause liver damage due to low blood sugar, and it happens quite rapidly.
Image via Pinterest.