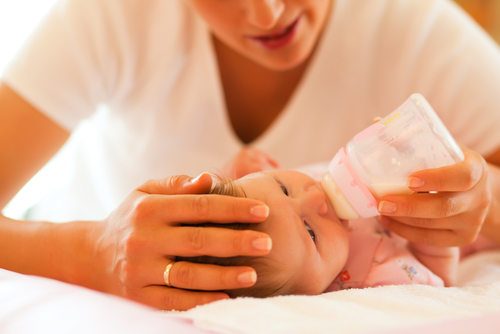 If you have decided to bottle feed your baby, there are a number of things you need to stock up on to ensure everything runs smoothly and without any problems.
Bottles
There are a number of different bottles available that do various functions and hold a certain amount of liquid. These include 125ml and 260ml bottles, anti-colic, and standard bottles. Talk to your midwife to see what they recommend.
Teats
There are a number of various teat sizes available: level one, two and three - as you go up each level the hole gets bigger. This means, as your child gets older, the flow can increase, satisfying their thirst. Level one is needed for the first few weeks as the flow is slower, making it easier for your baby to drink. You can also get special breastfeeding teats to help if you are breast and bottle feeding.
Formula
Unless you are pumping breast milk into the bottle, you will need to get formula milk for your baby. There are numerous brands available with some coming in powder or ready-made form, so talk to your midwife about what they feel is suitable for your baby.
Bottle nipple brush
It is important bottles are thoroughly cleaned before being sterilised so invest in a bottle and nipple brush to make cleaning easier.
Steriliser
An essential whether you are bottle feeding or not to ensure all equipment that you use for your baby's feeding is properly cleaned and sterilised.
Bottle warmer
Warming up a baby's bottle can be a little tricky as it is important it is not too hot to drink yet warm enough that they will enjoy it. A bottle warmer will ensure you can heat up the milk in minutes and have full control of the temperature.
Bottle rack
Investing in a bottle rack will mean your baby's bottles will be kept up off the counter while they drain.
Bottle bag
While it can be seen as a bit of a luxury, a bottle bag will ensure your bottles are kept cool or warm while out and about whether it is summer or winter.
Spit up bibs
An essential whether you are bottle or breast feeding to protect your clothes and your baby's.