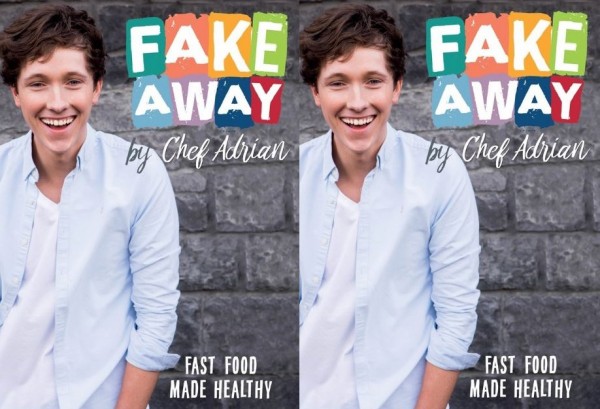 If you haven't heard of Chef Adrian by now, well, where have you been all of this time?! The Cavan native recently burst onto the cooking scene in Ireland, and he has been wowing us ever since with his mouth-watering recipes.
One thing that we absolutely love about Adrian's method, is how he constantly strives to make cooking easier and more accessible to everyone – without compromising on taste. This is exactly what makes his new book, Fakeaway, such a winner in our eyes.
While he may be one of Ireland's top chefs, and so used to creating marvellous dishes made with only the finest ingredients; Chef Adrian will admit that there is nothing yummier than a cheeky takeaway every now and again. We consider this a treat, though, don't we? And an expensive one, at that!
Well, Chef Adrian wants to take the culture of the beloved takeaway to the next level – by making it healthy, affordable, and easy to make at home.
Fakeaway is Chef Adrian's ode to 'fast food made healthy', the product of his mission to ensure everyone can enjoy their favourite takeaway treats without the work, and for a fraction of the price.
This book is a must-have for lovers of good, old-fashioned flavoursome food. Each recipe has been trialled and honed to perfection by Chef Adrian, who has recreated some of the nation's favourite takeaway specials.
There truly is something for everyone in Fakeaway, whether it's Chinese Crispy Duck or Fish and Chips; Chicken Wings or the ever-popular Spice Bag that tickles your fancy.
Chef Adrian has included a great range of cuisines in this colourful book, from Italian to Indian; American to Chinese, and beyond. He even has a recipe for a homemade Chicken Fillet Roll – one that is sure to go down well with his readers in Ireland!
Truly every base is covered in this book, including desserts (you NEED to check out the Cheat's After Eight Cake) and cocktails. Thankfully for us, Adrian has also included handy extras such as his trademark cooking tips and tricks, and a list of tools and pantry essentials to keep in stock.
If we have piqued your interest, and you'd love to get your hands on a copy of Fakeaway, you can now pre-order a copy from Mercier Press. Here's a link with a little more information.
All that's left to say is, happy cooking!