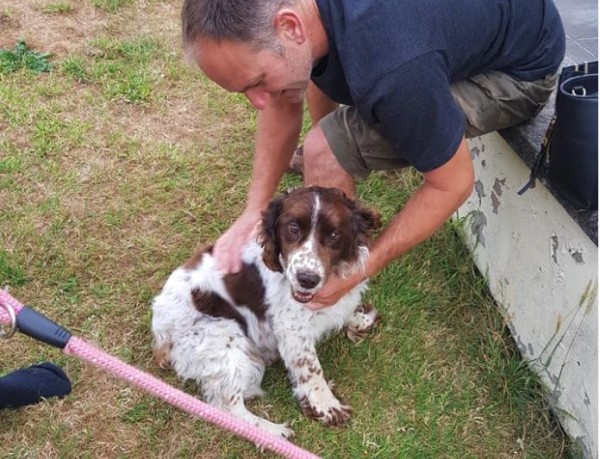 Five years ago Nicola Philips was heartbroken to discover that her adorable spaniel, Scampi, was taken from the street and into a van in Radstock, Somerset.
Fast forward to today and the story has finally gotten its happy ending.
It was all down to a stranger who took a video of a dog walking the streets of London and sent it to Nicola.
She was almost sure it was Scampi because of the similar markings on his coat.
SCAMPI REUNITED AFTER 5 YEARS!

In 2013 Scampi was Stolen from his kennel in Coleford, Somerset. Then a couple of days ago he was found as a stray in Islington, London
Scampi is now back with his family who are over the moon!

See Full Thread for More Photos & Videos pic.twitter.com/HAD2tCIJdX

— Sharon (@sharonwrdl) July 19, 2018
A few days later after it was confirmed that the pooch was indeed hers, Nicola picked him up in Islington and brought home.
She posted to the Facebook page she had set up to help find him, changing the pages name to ''Scampi is now home.''
She wrote, ''Scampi is home after 5 years and we will be eternally grateful to everyone involved, Islington dog warden for all their help , Coco Bing for finding him and Nora Holman for sharing the video with us. Words cannot describe how we feel towards you all. Thank you just doesn't seem enough.''
The dog, who is now 12-years-old, looked delighted to be home in the videos that Nicola shared.
The Facebook post has received over 4,000 likes, almost 1,000 shares and hundreds of comments.
Everyone was sharing the owners joy at the reunion, writing comments such as, ''so so happy for them all. many thanks to Coco who found him roaming and shared info before taking him to dog warden. love a happy ending'' and ''omg I've been following from America, and this HAS MADE MY WEEK!!!!!!!!! This is so great, so glad scampi is with his family again!''
What a truly heartwarming story - we're so happy that Scampi is home!