In 2014, after a few years of trying to start our family and visiting lots of doctor's appointments to try to find out why that wasn't happening, my husband and I decided to pursue adoption rather than fertility treatments. Very quickly, we learned that adoption in Ireland is, tragically, nearly impossible, and since we both have American passports, we decided to take a 'sabbatical.'
We'd leave our home in Dublin for a year and go to the States and adopt. In retrospect, it was a downright crazy idea. But with a fair dose of naivete, we prepared to uproot our lives and try to grow our family in the States.
We arrived in Houston, Texas, in August of 2015. We'd put all of our things into storage (mostly in my in-laws' garage) packed up two suitcases to begin a temporary life in Houston. We had family friends who knew a foster and adoption agency, so we met with them when we first arrived to start the adoption process. My husband looked for a job as a school guidance counselor, we found and began furnishing an apartment, I continued to freelance as a writer as I had been doing in Dublin.
On October 6th, I closed my eyes and clicked publish on a post about beginning our adoption journey here in Houston. I was finally able to explain to my readers why we hadn't made it back to Dublin yet after our summer travels and I went to sleep that night feeling that a weight had been lifted after the beans had been spilled.
The next morning, not twelve hours after I published that post, we got that magical phone call from Kim, who runs our adoption agency. It's known in the agency that Kim will always start these phone calls by saying, "We have a situation." I had actually received two phone calls like that in the previous two weeks, about a situation with children who just weren't meant to be ours, for various reasons. But this phone call was different. I'm not even sure Kim said there was a situation. I think she might have said, "There's a baby."
Our baby.
I knew it, I knew in my bones that she was ours from that very minute. And she was. And she is.
I barely held it together on the phone as Kim explained that the baby girl was in the NICU and she needed a family. She had been born a few days earlier to a mom who wasn't equipped to keep her. Her birth mom had already signed her over to our agency and left the hospital.
As soon as I got off the phone with Kim, she texted me a photo of the sweetest little bitty baby girl with one of those hospital issue hats with a bow. She was fast asleep, bundled up to her chin and had the sweetest turned up nose. I hope I never forget the moment I got to see my daughter's face for the first time, it was wonderful.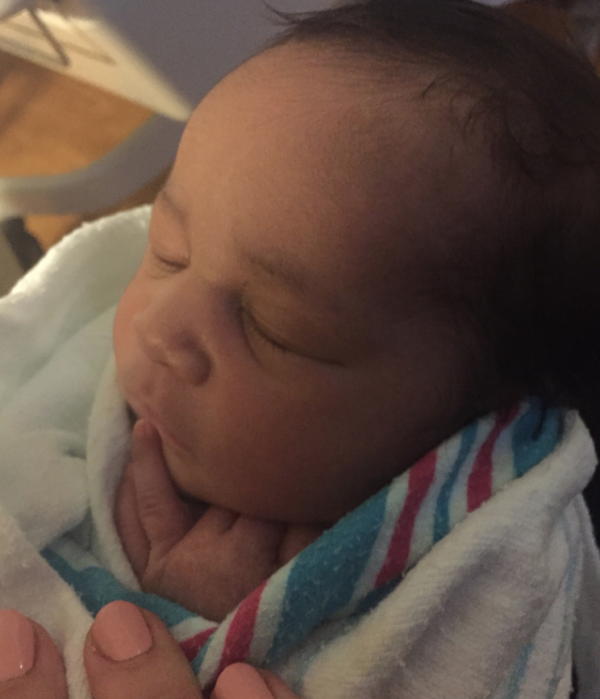 Of course, Michael has been in school when I've gotten these phone calls, and usually, I wait patiently until he's free so I can talk to him. This time, I didn't wait. I drove the ten blocks to his school and texted him from the parking lot that he had to come outside right away.
I certainly wasn't about to text him that we had a daughter. It was too important. Michael believed that teaching the class he was in the middle of was also quite important, so he wouldn't come outside. Honestly, if he had left his class, his students might have burned the building down. They're a little unruly, so I do see his point. But at the time, I was not happy. So I went to the gym and counted the minutes until 12:08pm when he could come out for his lunch break.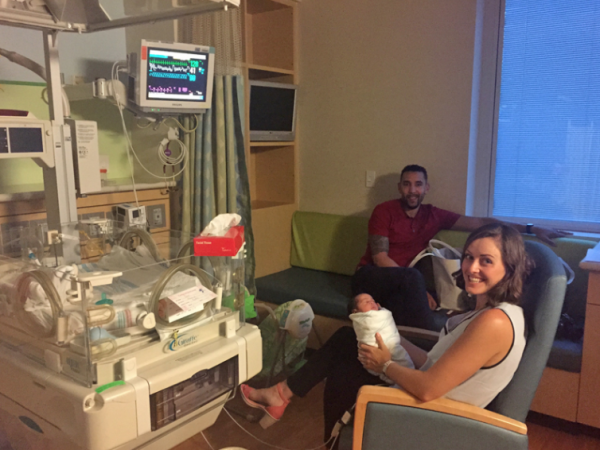 And at 12:08, I was reminded that Michael is the worst for those moments when you want someone to jump up and down and cry and have a big old show of emotion. He just doesn't work that way, especially when he's in school mode. So, I left him to process the news (and, poor thing, go back to work!) and headed home to shower and get dressed. Oddly, choosing what to wear to meet my daughter felt really important! I spent the rest of the afternoon in a daze, wandering aimlessly around Target trying to figure out what we should bring her in the hospital. I settled on a few swaddle blankets and little outfits, and then dazed myself home to put wash and dry and fold and re-fold, marveling at the teeny tiny size of those little clothes.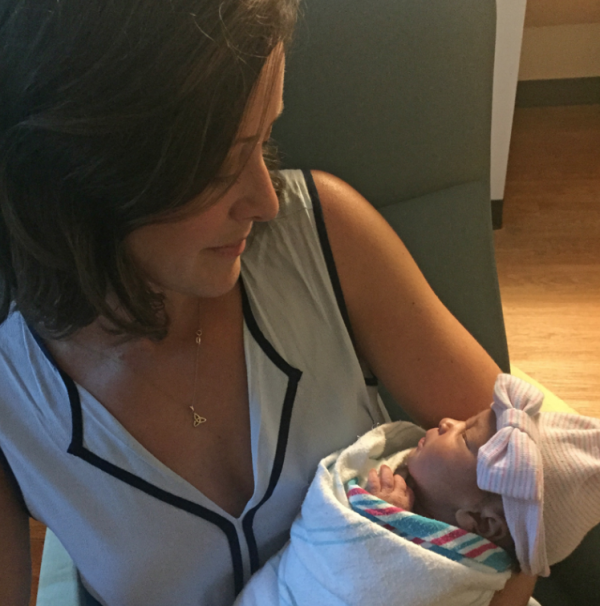 It was possibly the longest afternoon of my life, waiting until Michael was out of work so we could meet her. When we arrived at the hospital, our friend Debs was already there and had gotten our nametags all set and was waiting in the room to take a video of the moment we met our little girl. I'm so grateful (on about a million levels) for the support Debs has given us for years leading up to this moment, and I'll be eternally grateful that she captured those first moments with Maya. Without that video, I'm not sure either of us would have believed it really happened when we got home that night! It was just too surreal!
We had loved the name Maya for a long time, and after holding our Maya for a little while we decided that she did indeed look just like a Maya! Her middle name is Catharine, named for my maternal grandmother, who is fiesty and strong-willed, smart and industrious. All qualities we want Maya to have as well. My grandmother is also quite small, and we think Maya might end up on the diminutive side.
We spent a few hours in the hospital that first night holding Maya and staring at her, and then trying to reach as many family members as possible, both in Maine and in Ireland, to tell them the news. It took us a few days before our immediate family members were all in the loop. Those were very, very fun phone calls and Facetimes to make. I wish we had those recorded as well.
Maya was in the NICU because she was born with drugs in her system. Her birth mother admitted to using drugs and drinking alcohol while she was pregnant, and she had no prenatal care during her pregnancy. Maya had some withdrawal symptoms, mostly extreme irritability, during her first few days. My heart breaks that we weren't with her for those first hard days. But miraculously, Maya developed perfectly normally.
She improved quickly in the NICU and was released a few days after we met her. I was with her during the days in the NICU and the nurses were so kind. They called us mommy and daddy from the moment we walked into her room. They told us they had prayed for a family for her in her first hard days. They said she cried until we came.
For the last few years, since we decided on adoption, I've dreamed about that moment. Whenever I couldn't sleep at night, I'd let myself picture what it would be like to get a phone call telling us we had a baby. Or going to the hospital and meeting her for the first time. The odds of that dream coming true, almost exactly how I pictured it for so long, were very slim. Our agency dealt primarily in foster-to-adopt situations with rescue babies and children. Newborns were rare. Newborns that are headed straight to adoption were even more rare. We were prepared for much more complicated situations with birth families and babies coming from very traumatic situations of neglect, homelessness or abuse.
But after years of heartache in wanting to start our family, we got the dream. Finally, after a giant leap of faith and a whole lot of work to set up everything in Houston, this part was just easy.
There isn't a word big enough to describe that gift. She is all our Christmases in one tiny little package.
Maya was chosen for us from the moment she was conceived, which, not coincidentally, was exactly the time we made the decision to move to Houston this summer. And over those nine months, God protected her from the trauma of drugs and alcohol while she was being carried by her birth mother. And He split the sea so we could walk into that hospital and hold her in our arms.
In our adoption classes, we learned a ton of useful information. Two things stuck with me, repeating in my head every so often. There is no adoption without great loss. Before we even got to hold Maya in our arms, she had experienced the greatest loss of her life, a loss greater than most of us experience during our whole lives. Giving her up so she could be with our family was also an enormous loss for her birth mother and father. We will forever pray for them that their lives become stable, that they know they are loved and worthy, and that they know our family's love for them. We will be forever grateful for the sacrifice they have made.
The second thing is what Kim, who runs our agency, calls the "But God" Factor. Maya had no prenatal care and is 100% healthy. For us, there is no explanation for that except "But God." That the social workers called our agency, when they so rarely do, is so unlikely. But God. That Kim felt called to choose us, that our paperwork was finished so early, that I hadn't gone to Ireland that week like I had originally planned. But God.
A few months ago, we heard a sermon somewhere (we were in a lot of churches this summer over our travels!) and the pastor was encouraging the church to consider asking God for God-sized things. It was a turning point for me. I stopped praying around the edges of a new member of our family, and began praying directly for that big, God-sized thing.
On the morning we got the call about Maya, about an hour before the phone rang, I was making the bed. I was tucking the sheets in on Michael's side of the bed when I felt the strongest words in my soul. It's here. I had no idea that meant like really, right now, today here. I simply thought it was a perfect reassurance that God had chosen a child for us and it was already here, somewhere out there, waiting to be united with us in the coming months.
Little did I know she would be in our arms that evening, part of our family forever.