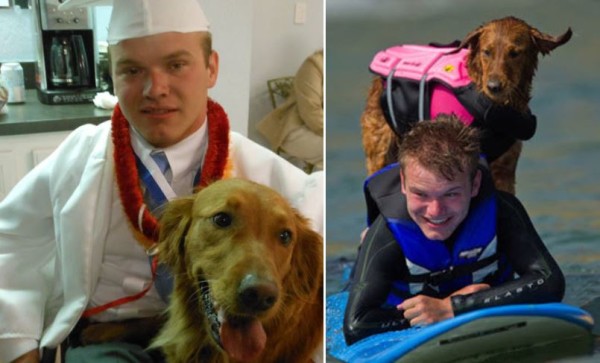 Back in 2009, then 15-year-old Patrick Ivison, a quadriplegic surfer, met a therapy dog named Ricochet. The dog was fundraising to help raise money for the teen's physical therapy, and the pair took part in a number of tandem surfs as part of the fundraiser.
However, unexpectedly, Ricochet made an independent decision to jump on the teen's surf board, and from that moment, Patrick says his life changed.
"I will remember that day at the beach forever," he says.
"Ricochet and I caught a few waves side by side, and then she decided she wanted to ride with me. When she hopped on my back it was a magical experience. We were in sync and could keep the board stable by helping each other. It was crazy and amazing."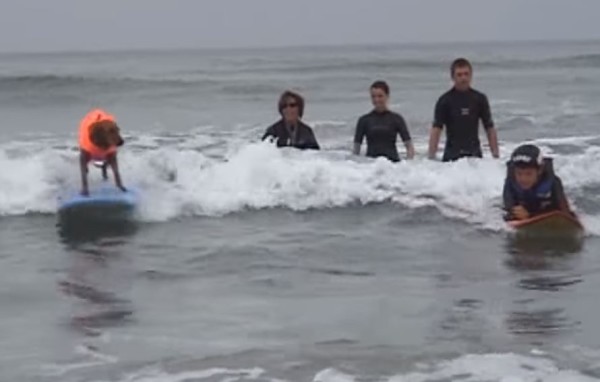 When Ricochet was born, she was placed in an early learning program with the intent of becoming a service dog for people with disabilities.
Unfortunately, she loved chasing birds too much and had to be released from the program. However, the dog had a natural instinct for surfing, and became a SURFice dog rather than a service dog, and started fundraising for various causes.
And that was when she met Patrick - at her very first fundraiser in aid of the 15-year-old. Incredibly, Ricochet raised $10,000 for the young adult and Ricochet's sponsor covered three years of physical therapy for Patrick.
Something he believes changed his life.
"The fundraiser Ricochet held for me secured enough money to give me intense physical therapy through high school and the independence I gained in that time is incalculable."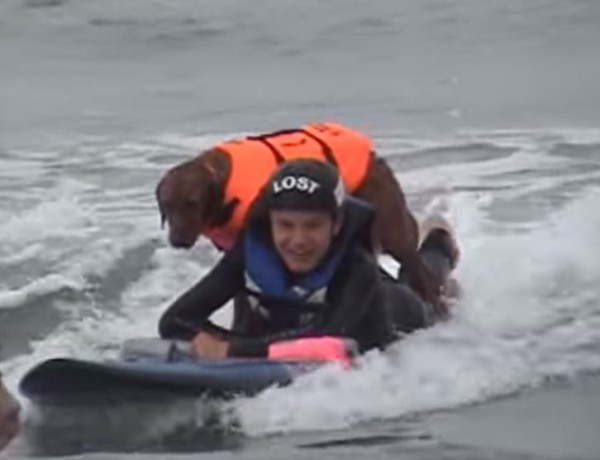 Patrick, 25, has since graduated from USC, lives and works in LA, has a girlfriend, an apartment, friends and the confidence and independence to live a full and "normal" life.
"I can trace everything in my life back to surfing with Ricochet and that first fundraiser," he says.
"I've loved watching other kids get involved, and I love seeing their faces as they surf with Ricochet. I know that she is changing their lives as much as she changed mine."
Since that day in 2009, Ricochet has continually added to her global ruff'sume in size, scale, and depth of programs. She went from service dog to SURFice dog® while providing canine-assisted surfing and other activities to empower, enhance and improve the quality of life for individuals with physical, cognitive or emotional disabilities.
Patrick and Ricochet recently reunited after ten years, and plan on catching a few waves in California to mark the occasion.
"For the past decade, Ricochet has balanced boards… and lives," her guardian Judy Fridono proudly explained.
"She's offered individuals something no one else could – her incredible gift of healing, no matter the person's challenge, disability or angst.
"As I look ahead, I see her legacy as one that continues through every dog on this planet. I have learned an exponential amount about the healing power of dogs through Ricochet, and it's my privilege to share it with other dog owners so they can unleash their dog's healing power too."
For more information, visit https://www.surfdogricochet.com/healing-power-of-dogs.html.