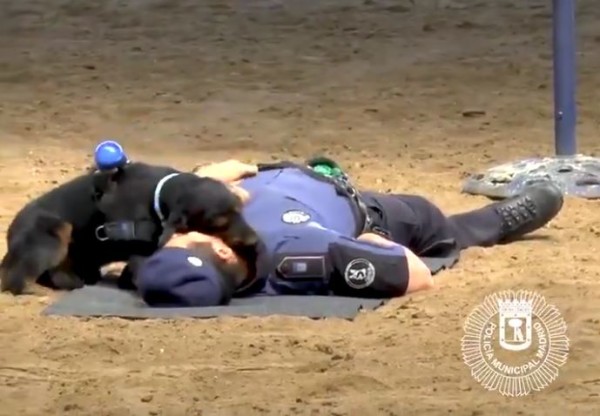 We all know that a dog is a man's best friend: they're loving, loyal and are always happy to see you. They're there to pick you up when you're feeling sad and are always waiting for you to come home and play.
But as this dog proves, they're more than just our friends - they can also save our lives.
Poncho the pooch has become an internet sensation after Madrid's Municipal Police department shared an incredible video of him on Twitter.
In the video, you can see an officer lying down on the ground, pretending to be injured. Poncho, a trained police dog can then be seen running up to the officer and jumping on him.
"Heroica" actuación de nuestro #Compañerosde4Patas Poncho, que no dudó ni un instante en "salvar la vida" del agente, practicando la #RCP de una manera magistral.
El perro es el único ser en el mundo que te amará más de lo que se ama a sí mismo- John Billings#Adopta pic.twitter.com/yeoEwPkbRc

— Policía de Madrid (@policiademadrid) June 22, 2018
But he's not looking to play - Poncho is actually performing CPR on the guy. The little pooch jumps up on the officer's chest before laying his head gently on the guy's neck. He continues this until the man gets up off the ground.
"Heroic" performance of our #Compañerosde4Patas Poncho, who did not hesitate for a moment to "save the life" of the agent, practising the #CPR in a masterful way. The dog is the only being in the world that will love you more than he loves himself- John Billings" the department tweeted.
Not surprisingly, the video has been viewed more than two million times, with many taking to the social media site to praise the dog for his incredible work.
I agree. These days, more than ever before, the best people on social media and often in life are animals who give us so much and want so very little in return.

— Karen Redman (@ReluctantRelict) June 26, 2018
Very very impressive

— Richard Hard (@chisawgang) June 26, 2018
Totally amazing!!

— Anupam Dasgupta (@reddevilanupam) June 26, 2018