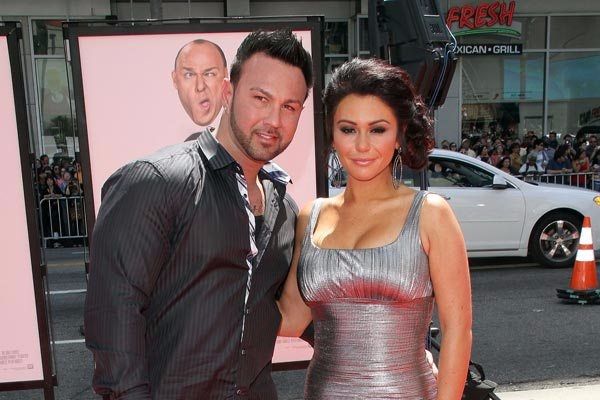 Jenni 'JWoww' Farley opened up on the HollywoodLife podcast about an issue that affects so many parents: when your kids are all you think about, and your sex life is forgotten.
The former Jersey Shore star has been married to her husband Roger Mathews since 2015. Together they have a precious 3-year-old daughter, Meilani Alexander, and an adorable 1-year-old son, Greyson Valor.
JWoww admitted to HollywoodLife.com that finding time to do the deed is 'always our issue'.
She and Roger co-sleep with their kids, a habit that they didn't intend to form but that 'just happened' since it made breastfeeding their eldest less of a task in the middle of the night.
Roger tried to keep co-sleeping from happening with their son as well. However, when little Greyson caught bronchiolitis and Jenni had keep their tot sitting up while sleeping, their bed was invaded again.
"It's not easy," JWoww said candidly of their sex life, "Two kids, a house, always traveling, the kids are young, they're up at five in the morning every day… By the time I go to bed, like, I'm out cold."
Add onto that the fact that hubby Roger is an oil truck driver and needs to be on the road by 5:30am every morning, and you've got one under-sexed couple.
The two have even employed date nights as a way to keep the romance alive, but even then she's exhausted enough that after dinner she's ready to snore!
The stunning reality star has also admitting to feeling a little unsexy herself, joking, "I have spit up on me, my hair is up in a [ponytail]."
We feel that!
Things aren't all that dire, though. The mum-of-two said they still manage to sneak a quickie in midday during nap-time a couple times a week if they're lucky.
She also admits that her priorities have changed since becoming a mother, saying, "The kids come first."
Can you relate? Do you have any ways you've managed to keep things exciting in the bedroom after becoming a mum?