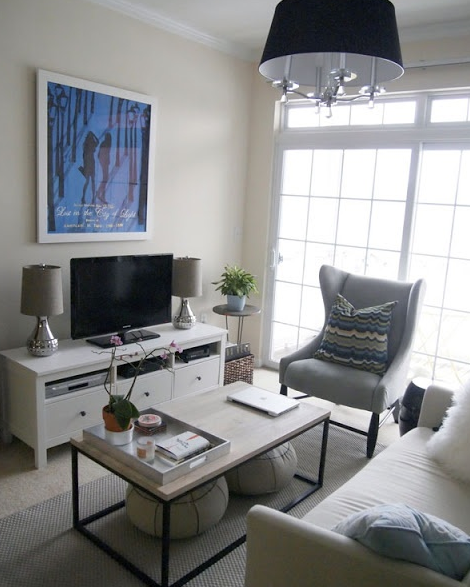 Just because you live in a small space doesn't mean it has to feel tiny or cramped. By implementing all or even just a few of these tips you're home will feel a lot more spacious.
1. Use pale, light colours on walls
2. Don't have everything pushed up against the wall.
3. Use hidden storage solutions to hide stuff.
4. Draw the eye up by putting shelving up near to the ceiling. Stack it with books and ornaments.
5. Use stripes. While not on the walls, a stripy carpet or rug can make the room feel longer.
6. Avoid net curtains or blinds on your windows and just hang curtains.
7. Use glass furniture to create the illusion of space.
8. Avoid furniture that sits completely on the floor – go for ones where you can see the legs.
9. Use the same wood colourings throughout the room.
10. Buy multi-functioning furniture. A table that lifts up with storage underneath is ideal.
image via Pinterest