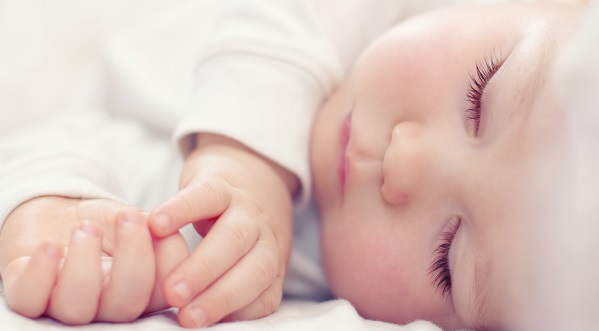 Tip #1: Nutrition
Newborn babies need feeding very often, and in the first few weeks this is probably your biggest focus. As your baby begins to be able to last longer between feeds, then it's crucial that your little one takes enough calories during the day to help them to last as long as possible at night. Focus on feeding your baby fully and ensuring they are feeding effectively (particularly if you're breastfeeding). Cluster-feed in the early evening, to help your baby to really fuel up for sleep. Always ask for help and advice regarding feeding if you're having any problems.
Tip #2: Swaddling (suitable from birth, up until your baby can roll whilst swaddled)
Safe, snug swaddling will help to soothe your baby, recreate a womb-like environment, and prevent the startle reflex from disturbing them; it will also help you to put your baby down for sleep, and enable your baby to sleep for longer stretches of time. Make sure you swaddle your baby firmly so that he/she feels secure, but do not restrict the hips or use a thick blanket that could cause over-heating. Here's a great swaddling method that ensures there are no loose blankets, or you can purchase specially designed swaddle products.

Tip #3: White noise
White noise can help cue your baby for sleep, create an environment that mimics the womb (it's very noisy in there!), block out sudden noises, and keep your child more relaxed whilst they sleep, therefore helping them to transition through light phases of sleep. To soothe your baby when he/she is crying, you can play white noise that can be heard above their cries
(if using a white noise machine or recording, then do not place the device directly next to your baby)
, or 'shhh' loudly across your baby's ear. Once your baby is calm, play the white noise continuously for all sleep periods at about conversation volume.
Tip #4: Darkness
Understanding how dark and light impacts on sleep is really important. Darkness cues our bodies to produce melatonin (a sleepy hormone) and light encourages our body to wake up. Darkness also means that there are no distractions visible to your baby when he/she briefly awakens in the night. So, when it gets near sleep time, send a signal to your child's body by turning the lights low. Keep the sleep environment as dark as possible all night, and use blackout blinds and only a small orange-glow night-light at low level, if needed.
Tip #5: Routine
When your newborn arrives, a routine is virtually impossible; but as soon as you feel ready, begin to introduce a bedtime routine that works for your family. This should be calm, quiet and in dim lighting. It may include feeding, bathing, stories, baby massage, getting PJs on, saying goodnight to toys, talking through the day, etc. - it all depends on the age of your child. Young babies only need a very short routine, but toddlers can benefit from a routine up to one hour in length, that has a clear beginning and end to reassure and define bedtime.