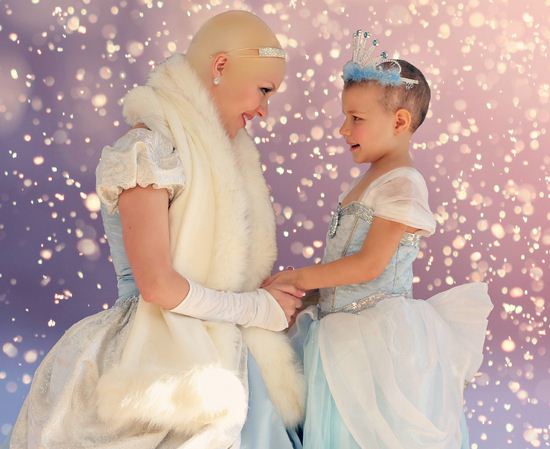 A five-year-old cancer patient has experienced what it's like to be real fairy princess and we couldn't be happier for her.

Isabella, a little girl enchanted by fairytales and princesses, was first diagnosed with leukemia in January 2013, however it seemed like she was in finally in the clear when the cancer tragically returned in September of this year.

Due to her treatment, Isabella's hair fell out and the little girl struggled with pain, tiredness and her changing appearance.

In a bid to lift the Isabella's spirits, Gianna Nicole's Heart of Hope, a foundation aimed at supporting child cancer patients, teamed up with Mother Hubbard Photography and Bella Princess LLC to plan a special photo shoot for her.

According to photographer Alana, Isabella froze when she was introduced to her princess for the day because, like Isabella, she was bald too! The princess performer, Chelsea Knutson, happily agreed to wear a bald cap if it would help Isabella realise her beauty.

Isabella, who hadn't wanted to take her hat off for the shoot, was overjoyed by the surprise with Alana saying: "Her face lit up. Then, she took her hat off."

The photographs of the shoot have since gone viral and Isabella's mum commented on the fact that the attention has boosted Isabella's confidence and self-esteem, saying: "She's even more confident. She feels like a celebrity."

We couldn't be happier to hear it!