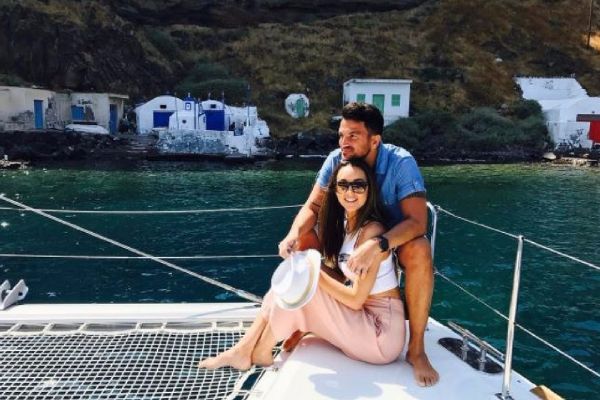 Peter Andre praised his wife Emily MacDonagh online today as he shared a sentimental throwback snap of their wedding day.
"Two years today. A beautiful wife and an incredible mother," he wrote alongside a photo of the couple embracing on their wedding day on July 11, 2015.
"Crazy amount of love for you. Happy Anniversary".
Fans were quick to offer their congratulations to the loved-up couple. One wrote: "Happy Anniversary to a beautiful couple, perfect for each other, many more happy years to come!"
Another said: "Wow just wow Peter, she is just the most wonderful wife for you, so happy you found Emily."
The couple first met when Emily was a 22-year-old medical student and have been in a relationship since 2012.
She met the singer after her surgeon father performed an operation on Peter and they've since gotten married and had two children together, Amelia, three, and Theo, eight months.
Qualified doctor Emily revealed in a previous interview that she received a lot of harsh criticism for her relationship with Peter who is 16 years older than her.
She told OK! magazine: "I find it hard when people say I'm too young to be with him – my skin is not thick enough and I find it very upsetting. I don't have social media because otherwise, you're opening yourself up to that criticism."
In 2012, Peter said he was not worried about the age gap: "A lot has been made of the age gap between us but she turns 23 this week and we don't even think about the age difference– it's irrelevant.
"I'm really really happy and although it's very early days with Ems and we're just seeing how it goes, she's a beautiful girl and I'm loving spending time with her."
Emily revealed becoming a step-mother to Peter's children Junior and Princess at such a young age was challenging at times.
"When you're a step-parent and you're sharing kids with their other parent it's hard and I don't want to impose my parenting methods on his kids when he might not agree with them."
The happy couple have no plans for any more children at the moment although Emily hinted it could be a possibility in the future.
"We need a bit of a break and to give the kids that we've got our time. When Theo is older and more settled then maybe in a few years we'll consider it, so never say never."