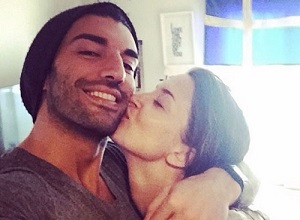 We just love an inventive pregnancy announcement, and this has to be one of the most beautiful ones we have ever seen.
When actor and Jane the Virgin star Justin Baldoni and his wife Emily discovered that they were pregnant, they wanted to share the news in the most special way with their family and friends.
Announcing the news on his YouTube channel, the 31-year-old shared a touching video montage of how he broke the news to everyone from his friends to his cast-mates, and their amazing reactions.
Using the award-nominated CW show as the inspiration behind what has clearly been an amazing year for the star, he used his character's baby scenes as a reference for his own big news.
As he sits everyone down in front of their computers to watch the video, it's clear that they have no idea about what is to come. Their reactions once they hear the little heartbeat, however, is nothing short of priceless.
This is a beautiful video that captures the pure joy and elation that a pregnancy announcement brings.
Check it out below.