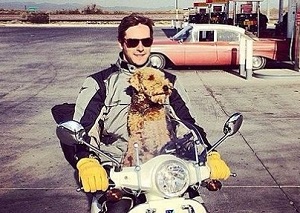 As we learn from the news every single day of the week, we need to be so careful with what we use our phones for – and this is something that one Hollywood star recently learned, in the most embarrassing way.
The Lone Ranger star Armie Hammer welcomed daughter Harper with his wife eight months ago, and he appeared on Jimmy Kimmel Live! this week to give an insight into his life as a new dad.
While discussing the joys of being a father, the 28-year-old recalled a particularly embarrassing incident involving photographs of his little one.
Armie, who is married to model Elizabeth Chambers, told show host Kimmel that he was recently showing photos of Harper to his hairstylist, when he accidentally flashed his own nude photo.
"I'm going through my phone and I get to pictures where she's lounging in the sink and she looks like she's having the time of her life. I'm showing her these pictures and I'm like, 'Look at how cute she is!'" explains Armie.
The former Gossip Girl star added: "I realise that I'm standing fully nude in the mirror of this bathroom as I'm showing her these pictures. As quickly and casually as possible, I went, 'Anyway, you get the picture!'"
Armie and Elizabeth welcomed Harper in December.