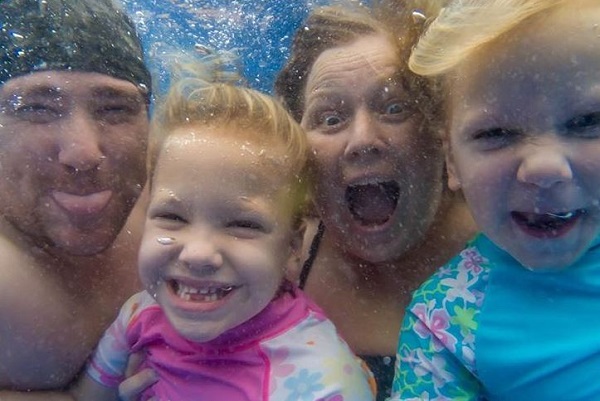 When Chris and Donna Jackson, from Herefordshire, realised that they weren't spending enough time with their daughters, they decided to take drastic action.
Chris, a paramedic and Donna, a paramedic nurse decided to quit their jobs and travel the world with their girls.
The family left their rented house and raised thousands by selling off everything they owned.
The couple now travel with four suitcases between them and their two girls, Ellie, eight, and Miley, six.
Speaking to the Mail Online, Donna revealed what was behind the decision to pack up and leave:
"We decided to travel as we weren't spending enough time together as a family. We were both working opposite shifts at the NHS, my last year studying was very stressful and a lot of hours working.
So once I finished my degree we had originally decided to take some time off, in which we decided to travel."
According to Donna, there is no "right time" to take the leap:
"There is no right moment to go, if you're already dreaming about it then you're already ready. If anyone is already thinking about going then I just suggest they do it."
So far, the family have travelled through the US, Canada, Costa Rica and Aruba, documenting their travels on Instagram as they go.
The girls are being homeschooled on the road, learning more by travelling and meeting new people than being stuck in a classroom.
Travelling on a budget has proved a challenge for the family. Chris and Donna often ring hotels and attractions ahead of time hoping for free stays in exchange for coverage on their 10,000 follower strong Instagram, Jelly Bean TV.
"We have learnt to budget better along the way so we are always learning how to save money now," Donna clarified. "Since the end of October we've been getting 90 per cent of our hotel stays for free."
They are planning on returning to the U.K for a month before continuing their adventures in Cambodia, Vietnam and China.
Donna said that the girls easily make friends on the road:
"We spent time with other families and was great for our kids to hang out together and be around welcoming people."
However the travelling lifestyle does not come without it's pitfalls. Whether its delays at airports or being detained at customs, it's definitely been a learning curve:
"Its been a great learning curve for us all and to come out the other side and really appreciate life and family."
It's enough to want to make us wanna pack up and jet off!