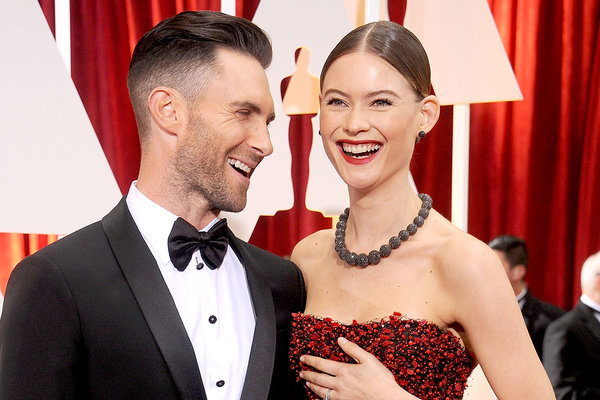 Maroon 5 singer Adam Levine has revealed the gender of his second child. The singer's wife Behati Prinsloo is expecting a baby girl.
He shared the exciting news with Ellen DeGeneres during his appearance on her popular talk show, The Ellen Show.
The She Will Be Loved singer praised his wife, Victoria's Secret model Behati, "She's awesome. She's just like a champion of the world. She's killing it."
He admitted that you can't even tell that his stunning wife is due in two months, "You wouldn't know she's almost seven months pregnant"
The Moves Like Jagger singer shared that he hopes to have many more children in the future: "I want a lot. I thrive in chaos."
He shares the dream with his wife, who also wants to have a big family, "She was an only child…She wants like 100 babies, but I don't know if I could do that."
He revealed that he adores being a dad, "I really genuinely enjoy it."
Adam and Behati shared the wonderful family news back in September. Behati took to Instagram to share the news with her five million followers.
She shared a photo of her baby bump and captioned the snap, "Round two."
The couple already have one daughter together, a 13-month-old daughter named Dusty. They welcomed their first little girl into the world on Wednesday, September 21, in Los Angeles.
We could not be happier for Adam and Behati. We're sure Dusty will be the perfect big sister.