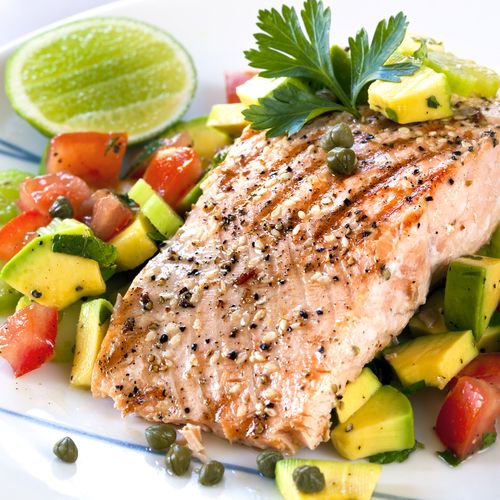 The link between certain fish and mercury is well documented and many new mums worry that if they eat fish while they are breastfeeding they risk exposing their baby to this harmful chemical. The good news is that by following a few easy tips you can get all the brain building Omega 3's you and your baby need without the risk.
The first step is understanding how mercury gets into fish. Atmospheric pollutants are a big part of how this happens, but mercury also naturally occurs in the air, water and other substances around us. When this mercury lands in water it's converted into methylercury. Because fish live in water they naturally absorb a little of this methyl mercury and in most species it's not to harmful levels. The problem comes in with large, predatory fish that eat other fish. When they eat those fish they absorb the mercury that those fish contain too which leads to a high level of the chemical in their bodies.
Methyl mercury, in small doses, probably won't do much harm to you or your baby. However, when you eat fish with high levels of the chemical it acts as a neurotoxin on your baby's brain. The effects of this can be dangerous, particularly to unborn and young children, as their brains and nervous systems are still developing.
It's tempting to simply cut all fish out of your diet but that would eliminate a vital source of Omega 3 and the protein and other beneficial nutrients that fish provide. It's better to avoid eating large predatory fish like shark, king mackerel, swordfish and tilefish, marlin, sea bass and others. Canned tuna is also flagged as a potential danger and it's best to limit your intake of any canned tuna to one serving per week.
Experts advise that eating two servings of fish and shellfish, other than those listed as dangerous, is okay per week. Fish identified as the best choices include salmon, rainbow trout, herring, sardines and whitefish.
Even if you catch the fish yourself it's not necessarily safe to eat as there's no link between fishing operations (even commercial ones) and the level of mercury in fish.
If you'd rather limit your risk and eat less fish, even those labelled as healthy, then make sure that you eat other foods like eggs, yogurt, milk or bread that have been fortified with Omega 3's. You could also try Omega 3 rich flaxseed oil or a purpose made fish oil supplement.
As always, if you are concerned that you are not getting enough Omega 3's or that your mercury levels are high you should speak to your doctor or healthcare provider.