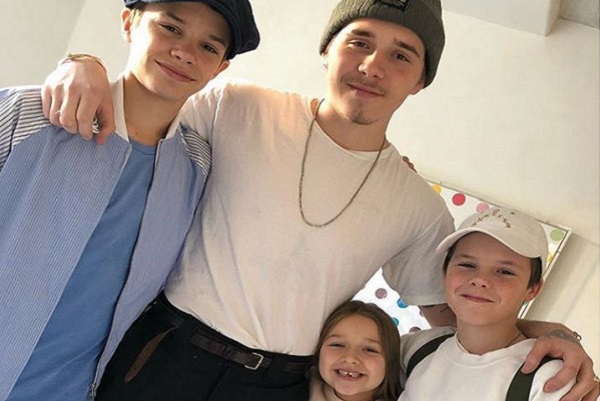 The countdown to Christmas is well and truly underway. The turkey has been ordered, the tree has been decorated and presents have been wrapped.
As Christmas day approaches, the airports will be crammed with people who are travelling home to spend Christmas with their families.
Victoria Beckham greeted one very special family member home this weekend. The mum-of-four posted a heart-warming picture of her children on her Instagram account.
The fashion designer's eldest son Brooklyn has arrived back in London to spend the festive season with his parents and siblings Romeo, Cruz and Harper.
She wrote, "I'm so happy!!! All my babies together!! @brooklynbeckham is home!! Xx Love u @romeobeckham @cruzbeckham #Harper kisses x."
Victoria is thrilled to have her family back together, and she certainly wasn't the only one who was happy to see 18-year-old Brooklyn back in the United Kingdom.
Fellow mums shared their love with Victoria, "I know that feeling so well my eldest is back from university family complete for Christmas."
Another added, "Awwww great feeling when everyone is home with mamma."
"Nothing makes a parent happier than having all the kids together," said one fan.
Others praised Victoria and David, "They look so grown up! You did a perfect job."
We are thrilled to see the family-of-six together again.
It's been a tough year for Victoria after Brooklyn moved to New York to study photography at Parsons School of Design.
The mum admitted that she couldn't stop crying when her eldest son jetted off to the Big Apple.
The Beckhams will have one very merry Christmas now that they've been reunited.