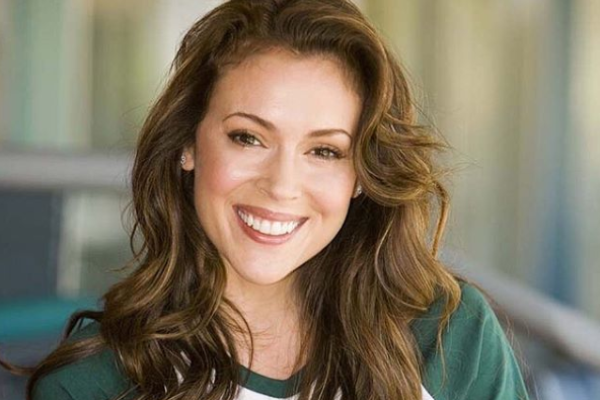 Picture via Instagram
Mental illness unfortunately is still cloaked in some stigma, despite the overwhelming prevalence of mental health issues.
Actress Alyssa Milano is hoping to eliminate this stigma by talking freely living with anxiety. She is by no means alone in her struggle; 264 million people across the globe are living with anxiety disorders, according to a World Health Organisation estimate from 2015.
Appearing on The View, the mum-of-two said, "I have a mental illness and I am going to say it just like that because I feel like there's such stigma around mental illness and I want people to know that if you have anxiety, depression, whatever your mental illness is may be, you are not alone."
Alyssa discussed her mental health in an essay she wrote for Time, noting that her Generalised Anxiety Disorder went hand in hand with becoming a mum.
"My Generalised Anxiety Disorder was most likely triggered by my postpartum depression, and my journey with mental illnesses began with my journey into motherhood," the Charmed actress wrote.
The 45-year-old discovered she was pregnant in 2011, two years after suffering a miscarriage. She described this pregnancy as 'a dream'.
"My miscarriage was heartbreaking, but this pregnancy was beautiful: I did not experience morning sickness; I went to prenatal yoga five times a week; I walked two miles a day; and I took naps in the afternoon," she shared.
However, when it came to giving birth, Alyssa's carefully laid plans quickly went off the rails. Her son Milo arrived 10 days early, and instead of delivering vaginally, as she'd hoped to, Alyssa ended up having a C-section after 18 hours of labour.
"That first night, after we returned from the hospital, I suffered my first anxiety attack. I felt like I had already disappointed my child," the Melrose Place actress revealed.
"I felt like I failed as a mother, since I was not able to give birth vaginally or nourish him with the breast milk that had not come in yet. My heart raced. My stomach seized up. I felt like I was dying."
The situation deteriorated after she went back to work.
"Finally, I hit a wall," the mum wrote, "One early morning, I went to the emergency room at 2:00 AM, asked for a psychiatrist and got help. I felt as though I had no choice: I asked to be committed; I stayed in a public psychiatric ward for three days."
Getting help was exactly what Alyssa needed. The NYC native found people around her ready to support her as she came to terms with her mental illness.
"Throughout this process, I also found angels — including my psychiatrist and my therapist," she said, "They convinced me that I had the bravery to face my illness, the value to seek help and the strength to recover. And I am continuing to do all three. And most likely I will for the rest of my life."
We're sure her words have given comfort and confidence to others living with mental illness.
Alyssa's openness surely sets a good example for her two children, three-year-old Elizabeth and six-year-old Milo. Mental illness is like any other aspect of health - it must be given proper attention and be free from stigma in order to be treated properly.