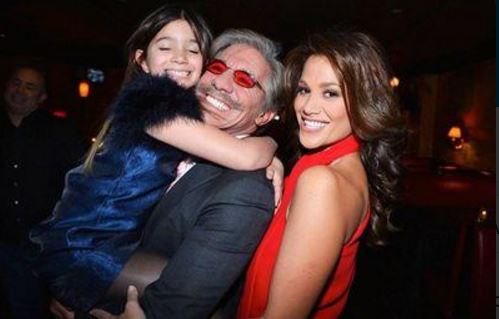 Emotions have been running high all weekend as the world comes to terms with the events which unfolded in Paris on Friday night – events which remind us all of own mortality and the fragility of life.

While hundreds of families waited to hear from their loved ones on Friday night, one well-known American broadcaster went on air that same night to express his relief upon learning his own daughter had escaped the bloodshed with her life.

Geraldo Rivera, a Fox News contributor, gave an emotionally-driven account of his daughter's experience in the French capital hours earlier.

With his voice shaking, the 72–year-old explained that his 21-year-old daughter Simone was attending the Germany- France football match at the Stade de France when explosions went off as part of a terrorist attack on the city.


Explaining that his child was in France as part of a college programme, he said: "My daughter, Simone, told me she heard three explosions near halftime."

"People ran one way. Simone and her friend started going in the other. It was chaos," he haltingly related as he outlined the chain of events which took place at the famous sporting arena.

Geraldo told the host of the show that he advised his daughter and her friends not to take the subway and she explained that they hoped to get a taxi to safety.

Like any parent, Geraldo struggled to keep his composure as he explained that his daughter's phone was still not working, but expressed relief that his child had been attending the football game as opposed to the rock concert as security was increased at the former due to President Hollande's presence.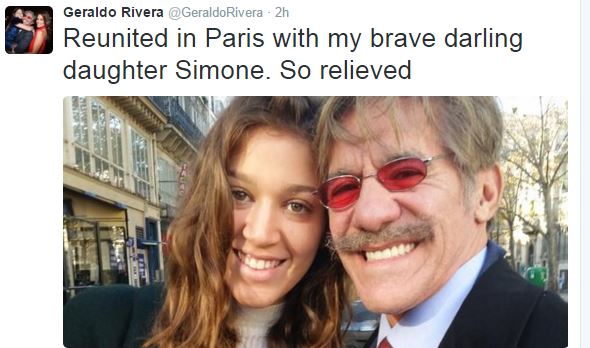 "We won't rest until she is in her apartment We don't want her to travel. We don't want her to do anything until they sort this out," he insisted.

Geraldo later took to his social media accounts to share an image of himself with his daughter accompanied by the caption: "She is safe."

And just today, the dad-of-five was reunited with his daughter in a heartfelt moment which he celebrated on social media.

We can only imagine what Geraldo and his family went though as they waited to hear word from Simone.