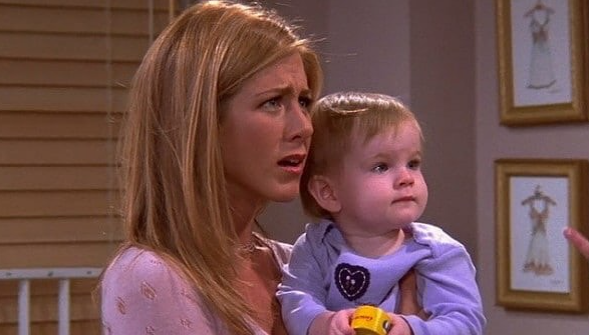 Remember Rachel and Ross' cute baby daughter Emma?
Well get ready to feel extremely old because the actors - yes, Emma was played by twins - have just turned sweet sixteen.
Not only that but Cali and Noelle Sheldon are set to return to our screens very soon...in Jordan Peele's latest horror film, Us.
They recently posted on instagram to mark their 16th birthday, with Cali calling her sister her "soul mate" and "bestie".
The twins first appeared in the hit sitcom Friends in 2003, and starred until it ended a year later.
Cali and Noelle got the Friends job after their mum read on a twin parenting blog that many film and TV productions look for young twins to play the role of one character.
Speaking to Bustle, Noelle said that while she doesn't remember her time on the show, ''a lot of people in our school watch it, and most of them know we were in it, so they think that's pretty cool."
"Everyone was really, really nice to Noelle and Cali, and treated them like little princesses on the set,'' their mum Gretchen Sheldon added.
The twins who played baby Emma in Friends are all grown up, and they've just been cast in @JordanPeele's upcoming film. Cali and Noelle Sheldon, now 16, will star in the director's latest thriller, US, slated for release in March 2019. pic.twitter.com/8SK1ed9K1d

— Sunday Times Style (@TheSTStyle) August 6, 2018
According to ELLE, their next role in Us will be their first feature film, which also stars Elizabeth Moss, Lupita Nyong'o and Winston Duke.
You can catch the twins in March 2019 when the movie hits cinemas -until then, it just gives us another excuse to re-watch those classic Friends episodes.