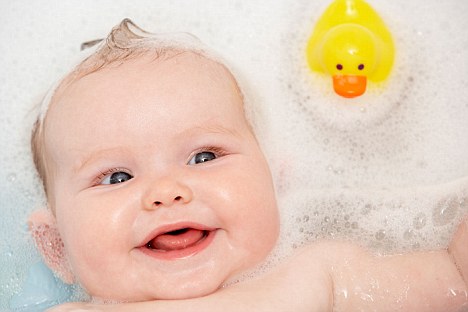 While that first bath with your tiny newborn may seem a little tricky at first, bath time can become a great way to bond with your baby.
Enjoying a splash with your little one can be as much fun for you as it is for baby.
Why not try a few of these games and activities on your little water baby and see which ones makes him or her smile the most.
Babies 0-6 months
1. Sing simple songs to baby as you bath them - like "this is the way to wash your face."
2. Turn empty bottles into submarines, boats and even rocket ships.
3. Take a bath with baby. Babies love it when mum joins them for a splash around.
4. Play Eskimo bubbles. Dab a few bubbles on baby's nose and gently pop them with your own!
Babies 6-15 months
1. Use wooden spoons, plastic containers, and anything else that makes a bit of noise for a fun music-making session.
2. Blow bubbles - simply drop a little shampoo on your hands, form a ring with thumbs and forefingers - and blow giant bubbles!
3. Swimming lessons. With one hand underneath them, gently swish baby up and down the bath - let's see those legs kicking!
4. Bubble beard - give yourself a beard made out of bubbles, and see the chuckles you'll get.
Babies 15 months plus
1. Naming of parts - put bubbles on different parts of baby's body, and encourage him or her to say their names - nose, arm, hand - you can repeat as you dry them afterwards too.
2. Bubble spelling - spell out letters in bubbles on baby's tummy - they'll love it, and they'll start learning too.
3. Spike up their hair with shampoo, and show them the results in the mirror - what a hoot!
4. Kick start - pop a little ball in the bath with them, and encourage baby to kick it around.