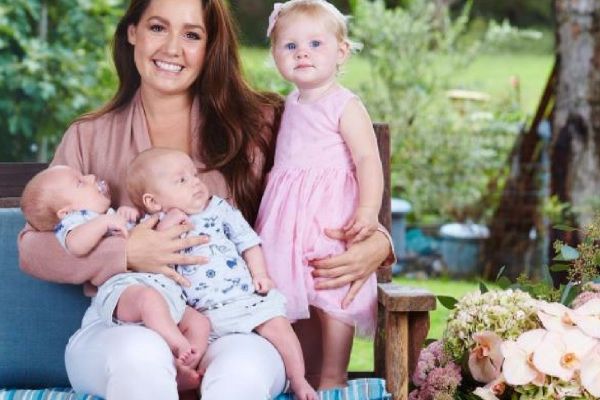 We admire mum Eliza Curby for many reasons. Firstly, she had three kids in the space of 11 months…we're tired just thinking about that!
Eliza gave birth to daughter Charlie in January 2016. Just six weeks later, the mum was shocked to find out she was pregnant again.
27-year-old Eliza, from Sydney, admits that she "didn't even think about contraception", according to The Mail Online.
The young mum believed that breastfeeding would prevent her from getting pregnant again.
She said she "had never been so nervous in her life" when a doctor confirmed her shock pregnancy.
Not only was she pregnant, but this time Eliza was expecting twins!
Eliza gave birth to twin boys in December 2016 and is now adjusting to life as a mum-of-three.
Having three babies meant the young woman's body changed irrevocably but Eliza has embraced the bodily changes that come with becoming a mother.
The brave young mum shared a photo of her postpartum belly to her Instagram, revealing that by doing this, she hoped to help other mums feel better about their postpartum bodies also.
"Because I'm not embarrassed of the scars my body now carries. Because I'm proud of what my body has done for me", she wrote in the caption.
"Because many women feel the need to hide it. Because famous women post 'look at my body just three weeks postpartum' and portray unrealistic images of what it means to be a mother.
"Because I feel beautiful in my own skin - even if there's A LOT of it! Because beauty takes many forms. Because I can. Because you should also be proud".
With 13,000 followers on Instagram, the mum blogger was soon inundated with comments from fans and followers.
One mum wrote: "I so needed to see and hear this message today - THANK YOU! I had my singleton and twins within 14 months, and it's so refreshing to know I'm not alone".
Another mum concurred, saying: "Your body worked hard...you look amazing...I have some loose skin and a stretched belly button after having two sons. Keep sharing".
We're very impressed by Eliza's courage in sharing such a personal photo – kudos to her.