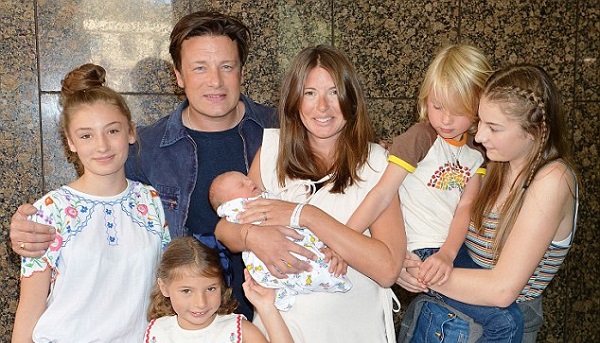 He turned six this week and was the centre of attention over on Instagram, but it seems Buddy Oliver only has eyes for his little brother, River Rocket.
Proud mum Jools took to her social media channels to share a cute photo she captured while an 'unaware' Buddy enjoyed some cuddle time with his baby brother.
"I love catching Buds unaware that I am watching him! He is so gentle and loving with River, it's beautiful to watch," she wrote.
The Olivers were all praise for Buddy on Thursday, as he celebrated his birthday; and his capabilities as a big brother came in for high praise.
Gushing over her eldest son, mum-of-five Jools described him as 'the kindest, sweetest, quirkiest, cutest little thing' and 'the loveliest brother'.
While all eyes are on baby River in the Oliver household, dad Jamie has also hinted that he would 'love' to take on the now vacant Great British Bake Off presenting slot.
"I would get massive cred from my kids," said the celebrity chef, who has fronted a string of his own successful cookery shows.
If Bake Off isn't on the cards, might we be so bold as to pitch a family cookery show? We would LOVE to see more of the mini-Olivers.
SHARE with a fan of the family who will love the latest sweet insight.