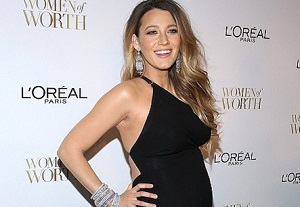 She has been sharing little insights into her life as a mum since welcoming her first child earlier this year, and Blake Lively got very candid indeed in her latest post.
The Hollywood actress, who is mum to six-month-old daughter James with husband Ryan Reynolds, took to her Instagram account today to show off the 'perks' of breastfeeding her little one.
The 27-year-old posted a picture of herself focusing on her daughter, whom it appears she is breastfeeding out of the sight of the camera.
"The PERKS of breastfeeding," the former Gossip Girl star wrote, showcasing a stunning tropical alcove in the background.
Blake recently opened up about how she has been juggling career with motherhood, in an interview with Allure magazine.
Giving an insight into just how hectic her life can be, the star joked: "I'm, like, driving down the road, pumping."
"Most of the things I do are all-consuming, but somehow I find a way to do it all. It's not having it all; it's about doing it all, but it's dangerous to dilute that to a catchphrase…Having it all could be having a happy, healthy family, and you could be a mum who stays at home, and that is the most admirable thing you could do," she said.
Blake and Ryan welcomed little James in January.