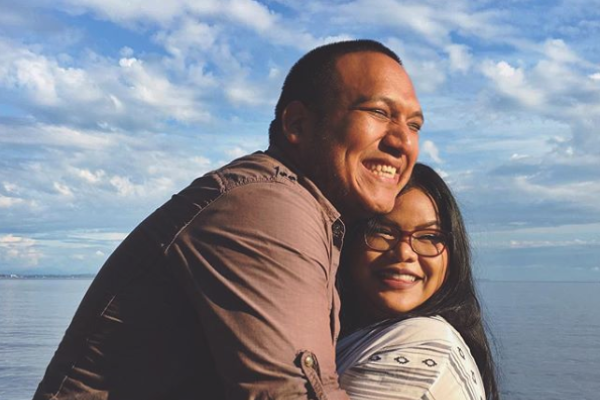 Picture via Instagram
Foodie Jen Phanomrat was utterly delighted when her boyfriend, best friend, and partner in blogging Leo Samanamud popped the question recently.
The couple has been together for nine years and runs the popular food blog and YouTube channel Just Eat Life together.
They weren't expecting, though, that their happy news would be met with such backlash against the engagement ring Leo selected.
"Where's the ring?" one person asked, while another wrote, "So are we all just going to pretend like that ring isn't microscopically small?"
Some of the comments got especially nasty, including one that read, "It must suck to wait nine years for a ring that looks like that."
Jen was taken aback by the negativity. She loves the ring and the man who gave it to her.
She told Yahoo Lifestyle, "He knew exactly what type of ring I'd love. A delicate, hammered gold ring with a tiny pearl. I don't usually wear any jewellery, but when I do, it's simple and minimal."
As well, the blogger said that a large stone would be an impractical choice for a cooking show host, as her hands often get messy in her line of work.
The best part of the ring, in Jen's eyes, can't be seen in the photo she shared.
"What mattered to me the most was the tiny detail on the inside of the ring," she explained.
"He asked the ring maker to inscribe the initials of our nicknames for each other. I swear I thought I was floating in the air when he pointed it out. My heart smiles every time I see it."
And while she adores the ring, she obviously doesn't love how trolls have reacted. Being an online personality has always brought some negative comments Jen's way, but these recent ones went beyond anything she'd experienced before.
"I've always been an advocate for women supporting women, so I was shocked to see so many females wasting their time replying to each other to dampen our happy moment," the foodie said.
"I deleted many comment threads to ease the cycles of hate speech. What I couldn't remove were the memes that people created and shared on Snapchat and Instagram.
"Another female influencer shared one of the memes, which said 'Ladies, would you accept the ring and say yes?' above our photo."
However, no amount of negativity is going to be able to change the fact that Jen's overjoyed to spend the rest of her life with Leo.
"What Leo and I do want those people to know is that we mostly choose experiences over material things, and we encourage others to think about how they measure value in life," the blogger stated.
"We made it our priority to travel around the world, eat bucket list foods, and experience dream adventures together.
"That's all we've ever wanted and will continue to do, ring or no ring."