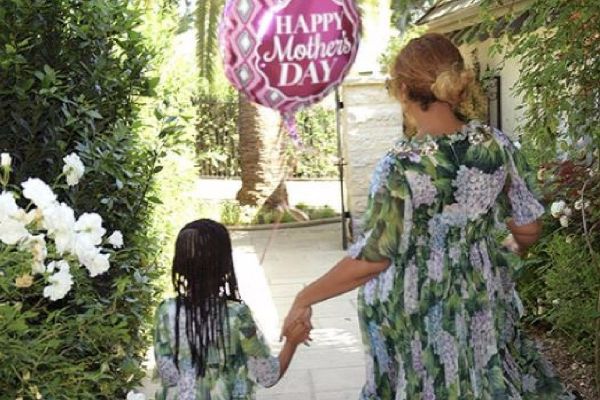 Beyoncé's little bundles of joy are due any day now and excitement is reaching fever pitch.
Like all parents, it seems Beyoncé and Jay-Z are concerned that Blue Ivy, five, might be jealous of the twins given that she's been an only child for so long.
According to a source, they're contemplating letting the little girl be present for the birth so she doesn't "feel left out."
"They're worried that their daughter might feel left out when the twins arrive, so they're trying to make sure she feels involved every step of the way," the source told The Daily Star Sunday newspaper.
Apparently, the extravagant couple have even bought Blue Ivy a child's nurse's uniform designed by Givenchy for the occasion which cost over a thousand dollars.
Beyoncé's mum Tina Knowles is very excited about the babies but is keeping tight-lipped about the gender.
When asked about the gender of her grandchildren Tina said: "I would be happy with whatever God gives me. It's the biggest blessing. I'm so excited!"
She heaped praise on her daughter's parenting skills, saying: "Beyoncé and Jay Z are incredible parents. She's a really good mom. Really patient and kind."
Tina says she's passed on good values to her eldest daughter. "My biggest lesson was teaching them that what is on the inside counts more than what's on the outside. I see her passing it on, and it makes me really proud because that was my biggest lesson."
Last month Beyoncé held an African-themed push party and sported a giant henna design on her impressive bump. She wore an elaborate headdress, a long necklace and a flowing skirt.
However, photos posted a week later lead some fans to question if the singer could have already given birth.
A photo posted on May 31 shows Beyoncé cradling Blue Ivy in her arms and her bump looks significantly smaller than the baby shower photos.
It led some fans to question if this was a throwback photo from earlier in her pregnancy posted as a decoy.
One fan demanded: "Show us the babies man", while another wrote, "Where the twins at Beyoncé?"
Shimmer and sparkle - #Blue and #Bey enjoying some mommy and me time. @Beyonce #TheBGL #TheBourgieLife #BlueIvy #Beyoncé pic.twitter.com/ziKcfVAjDD

— TheBourgie Life (@ThebourgieLife) May 31, 2017
The intense speculation was fuelled by the news that Bey's younger sister Solange cancelled her concert in Boston last week. Some fans believe this was due to the arrival of the twins.
We're intrigued! Hopefully, Beyoncé will have some baby news for us soon.