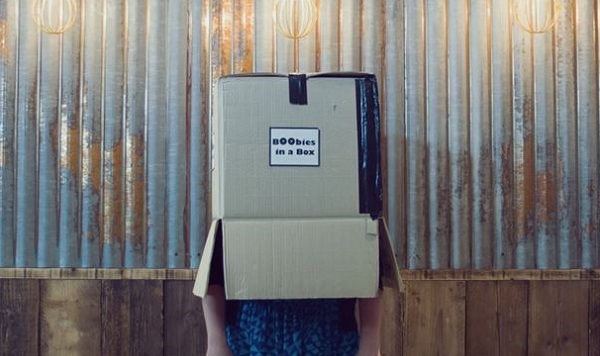 We've lost track of the number of breastfeeding-shaming incidents and nursing protests that have played out over the past few years, but everyone can now relax, because vlogger Hunt the Vigan has come up with a solution!
In a tongue-in-cheek play on those oversized napkins so many mums have been presented with while nursing in public, Hunt the Vigan has unveiled 'Boobies in a Box'.
Essentially just a cardboard box to be placed over the mother and child's heads as they feed, Boobies in a Box is so ridiculous that it will most certainly give all of those breastfeeding-shamers some food for thought.
Designed especially for mums who 'get dirty looks when they nurse their child in public', Boobies in a Box is marketed as the ultimate modesty device for breastfeeding mothers.
As you can imagine, mums all over the world have been having great fun with the joke creation.
Commenting on a Facebook post featuring the video, one fan wrote: "I thought it was to put on the head of anyone who thinks they need to stare at your child and then complain about you being 'indecent'."
We love it!
SHARE with a fellow mum who will appreciate this.