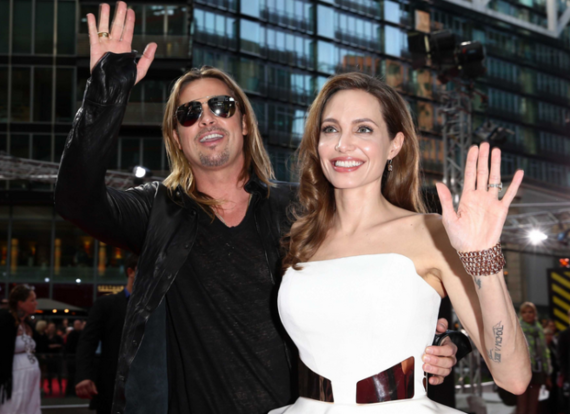 It's been reported that Brad Pit and Angela Jolie have finally tied the knot in a surprise ceremony on Saturday
A spokesperson for the couple said they were married in a private ceremony last weekend in a small chapel in Chateau Miraval, France, attended my close friends and family.
The long-enganged couple had obtained a marriage liscence from a California judge in preparation for the non-demonational ceremony. The judge conducted the ceremony for them in France.
Brad and Angelina's children took part in their parent's wedding ceremony, the spokesperson revealed.
Angelina walked down the aisle with her two eldest sons Maddon and Pax giving her away. Zahara and Vivienne acted as flower girls, throwing petals along the aisle, and Shiloh and Knox were the ring bearers.
For once the media seems to have been caught completely off guard and are excitedly waiting for more details of the long awaited ceremony. So far no photographs of the wedding have been released.
In May the Oscar winning actress said in an interview that the couple had no plans or date in mind.
"We don't have a date, and we're not hiding anything, but we really don't know," Angelina said.
"We talk to the kids about it once in a while - and one of them suggested paintball. And we thought, 'Well, different'."
"You know, I think the important thing is that whatever we do it's that the kids do have a great time, and we all - you know, take seriously the love, and the connection between all of us. But also just get silly and do something memorable."
We look forward to seeing how they made the day memorable!