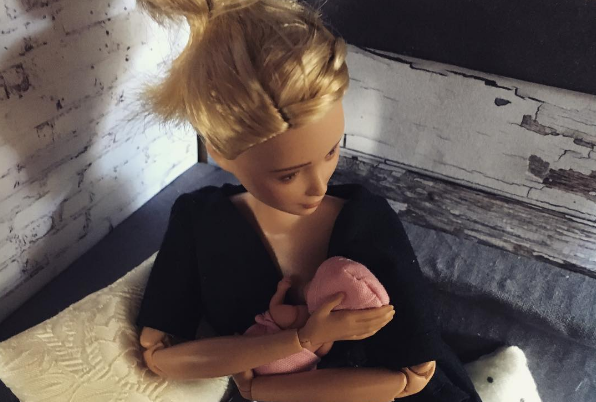 Whether it's for you or not, there is no denying that breastfeeding is still a point of debate for many.
And the decision should be completely yours, but many feel pressured when it comes to breastfeeding and this mum has had enough.
Mum-of-two, Betty Strachan thinks the only way to help people understand is to educate them.
Taking old Barbie dolls, Betty is repainting them to represent real women and among them is a breastfeeding mother she likes to call "Mamas Worldwide Barbie".
"I'm a member of a mothers' group that's comprised of very lovely and supportive women," Betty told The Huffington Post about how the character was created.
"I remember one day, I was drawing the new face on a Barbie doll, and she just seemed to be the embodiment of the entire group."
Following the success of the doll, the Australian mum then decided to make a statement with her dolls and sell them on Etsy.
"So I mimicked the positioning of a latched baby with an old figurine I had and called her the 'Mamas Worldwide Barbie.'"
Since posting pictures on her Instagram page, Betty says everyone in her mothers' group have been praising her work and has even been requested to make more.
She now hopes her dolls will help educate a younger generation.
"Like most things that society deems unacceptable, educating children is the way to erase the stigma behind it."