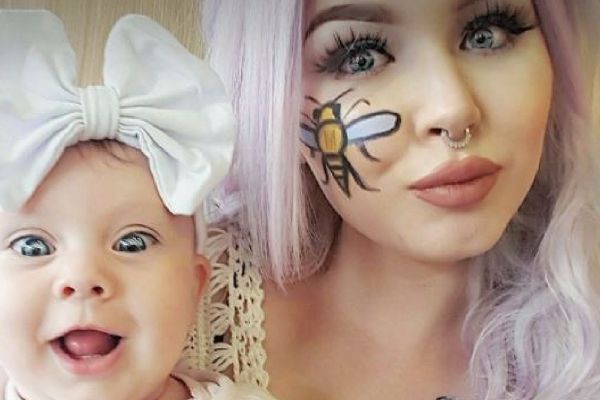 Aimee Wood, 20, is a proud breastfeeding mum and often posts photos of herself breastfeeding her daughter Nova online.
Most of the time, Aimee's photos generate positive feedback but recently she was sent an abusive expletive-laden message on Facebook from a man she didn't know.
The man began his nasty vitriolic message saying: "Put your f***ing t*ts away. I've seen them every day.
The creep continued: "I have nothing against breastfeeding, in fact, I like a suck of a t*t myself but f***ing hell no need for it.
"Disturbing for your poor child when she grows up plastered all over social media sucking on your saggy nip!!!"
After receiving a message like this, we wouldn't have blamed Aimee if she responded in kind or burst into tears.
However, the young mum had a much simpler and more effective reply.
Breastfeeding mum hits back after man tells her to 'put her f***ing t*ts away' https://t.co/PijKAgtiX4

— Metro (@MetroUK) July 1, 2017
She calmly snapped a photo of herself breastfeeding Nova while extending her middle finger to the abusive man.
Aimee sent him the photo and hasn't been bothered by him since.
She added a message to her Facebook page saying: "I'd just like to point out to each and every person that my posts seem to bother, that there is a block button for a reason.
"I will post 500 breastfeeding pictures a day if that's what I wish to do. This is my profile, my daughter and MY memories.
"I can share what I want and when I want, and if you don't want to be a part of that then so be it, you will not be missed."
When questioned whether she posts breastfeeding photos for attention, Aimee had an excellent response to this also.
"Not that I need to explain, but it's for the memories. And also because my daughter has severe reflux she constantly feeds," she wrote.
"She never goes more than half an hour without feeding unless she's asleep. I'd have very few photos of her if I didn't capture breastfeeding pictures.
"I'm proud of our breastfeeding journey and of my daughter. I post them for me. I have a separate Instagram account with only mums following me, where I post most of my breastfeeding pictures."
We're very impressed by Aimee's response to such a nasty cowardly message. She refused to allow herself be shamed by a bully and stuck up for herself and her daughter.