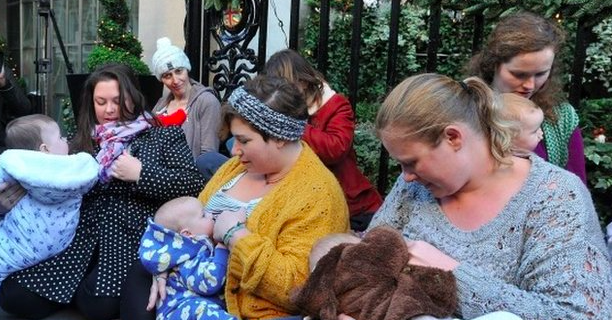 A group of mums have staged a protest outside Claridge's hotel in London after another mum, Louise Burns was asked to cover up her feeding baby with a napkin last week.
The Free to Feed group took to their Facebook group about their protest, saying: "Enough is enough. Claridge's have had ample time to apologise for their mistake and rectify the situation by changing their 'policy', which states that they allow nursing mothers "so long as they are discreet". Claridge's seem to think that they are above the laws and legislation of this land. This will be a peaceful demonstration in support of breastfeeding mothers. All welcome."
The group of about 25 women gathered outside the five-star hotel and spoke to the BBC about getting their message across. Kate Pirson said: "I believe my baby has the right to be fed whenever he's hungry. I think in 2014 we shouldn't have to worry about how babies are fed, just that they are fed."
Meanwhile, a rep for Prime Minister David Cameron has said that he full supports breastfeeding mums and that any move against this is inappropriate: "[Mr. Cameron] shares the view of the NHS, which is that breastfeeding is completely natural and it's totally unacceptable for any women to be made feel uncomfortable when breastfeeding in public."
The luxury hotel have not yet commented on the protest or the incident to which it was led.