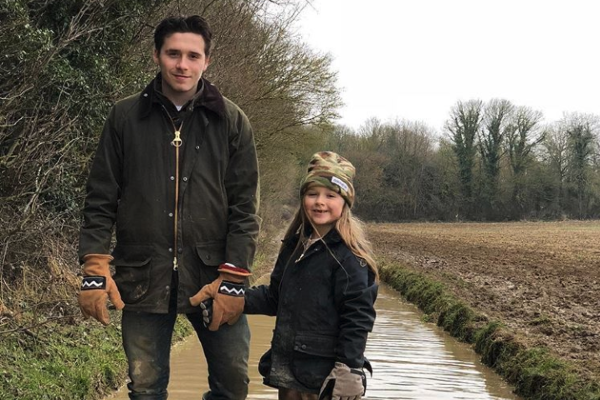 Picture via Instagram
Brooklyn Beckham, much like his dad David, loves to get body art dedicated to his family.
So far the 19-year-old is decked out with his brothers' and sister's birth years, a classic heart with 'Mum' inscribed across it for Victoria, and his dad's birth year, among his other tats.
Now, the aspiring photographer has added a dainty dancer to his ink, 'for his baby sister', according to tattoo artist Mr. K (Sanghyuk Ko).
The darling ballerina perched on his ankle is wearing a lovely little tutu, with a star shining above her head.
What a sweet way to honour his baby sister!
Brooklyn was certainly pleased with the final product, writing on Instagram, "Love it x cheers."
And it looks like David may be next in line to get inked by Mr. K!
The famous footballer accompanied his son to the NYC tattoo parlour, and Mr. K wrote of the experience, "Can't wait to tattoo you next time."
Considering that the tattoo artist included a rose emoji in the caption, we're guessing that maybe the father-of-four will be getting a floral tattoo.
As far as Brooklyn's new ink goes, his Insta followers were completely taken with the delicate tattoo tribute to six-year-old Harper.
"Harper will love it!" one fan raved in the comments.
"What a beauty," another wrote enthusiastically.
Do you have any ink honouring your family members?