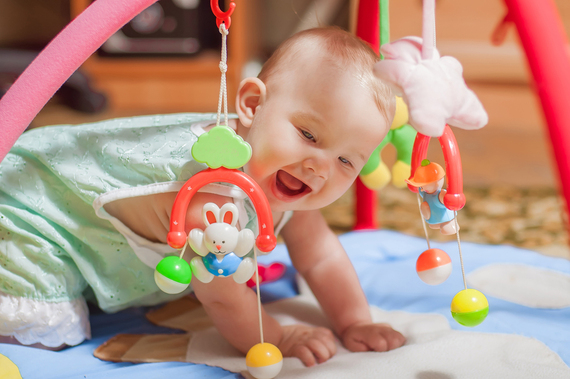 It is hard to resist buying your baby toys, especially the adorable giraffe teddy that is all kinds of cute.
However, when it comes to purchasing a plaything for your little one, it is important you consider the following five things:
Suitability for your child's age
Don't buy a toy that is not recommended for your child's age range. A toy for an older child can frustrate your little one and it can be brushed to the side and left to go to waste. It can also be dangerous if it contains small, detachable parts.
Safety
Obviously this is one of the most important things to consider before you make your purchase. Avoid buying products with any loose parts that your little one can put in their mouth, make sure it has undergone appropriate health and safety tests, don't go for an item that has any length of string and make sure it isn't heavy or has compartments where your child can catch their finger. Make sure any toys you buy are of high quality workmanship and have the CE symbol – the official European Conformity symbol which means they meet toy safety requirements.
Is it educational?
At this young age, anything that you buy your child is going to go a long way to helping them to learn things. However, it is still important you decide on one that will help them to make use of fine motor skills, challenges them, encourages them to move and helps them to learn new skills such as pressing a button.
Is it of good quality?
Only buy from reputable stores where you are guaranteed it was made with quality workmanship. Look out for any loose threads, buttons, sharp edges, broken pieces or small removable items before giving them to your little one.
Toys to buy
With such a wide variety of adorable toys to buy for baby, it can be hard to settle on just one. To help you out, we have compiled a list of things that are great to help with your baby's development: soft mirrors that they can look in, toys that they can hold in their hand, soft books with various textures and colours, noisy toys such as a rattle or shaker and anything that creates musical sounds.