Halloween is a great excuse to dress up and go out and have some fun, but while trick or treating is not on the agenda for babies, there are plenty of things you can do to make it fun.
Yes, there is nothing more adorable than seeing an infant dressed up in a cat or mouse costume, but it can be overwhelming for them; however that doesn't mean you can't celebrate the big day with them in some small way.
1. Keep the costume low-key
There is no point dressing your little one up in an outfit that will leave them feeling uncomfortable or irritated – that's not going to be fun for anyone. Instead keep it simple: a onesie with a pumpkin on the front, a cute Halloween clip or even a a tiny hair band are enough for infants.
2. Skip the trick or treating part
Your little one is going to be too young to be trick or treating but that doesn't mean you can't go out and have fun. There are plenty of events taking place all across the country that are perfect for little ones – you can always organise a party in the home for all their little baby friends if you wanted.
3. Visit family and friends
Just because your little one is too young to go trick or treating doesn't mean you can't visit family and friends instead. This way they can still show off their cute costume and be a part of the festivities.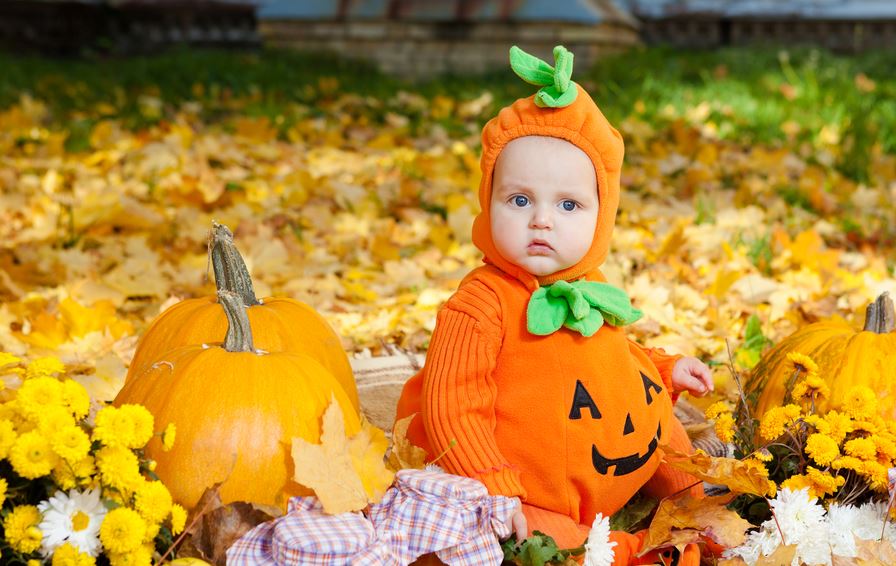 4. Get them involved in giving out sweets
Why not get your little one involved in passing out sweets to any kids who come to the door. This is a great way to get them into the spirit of things but do keep in mind costumes that you think might scare them – don't push your little one to go to the door if they are frightened.
5. Think safety at all times
No matter what you decide to do on the day, it is important you keep safety at the forefront of your mind.
Never put a mask on them that will limit their visibility
Make sure their costume is EU approved
Avoid using face paint on them
Never tie anything around their head that puts your little one at risk of strangulation
Make sure they are visible