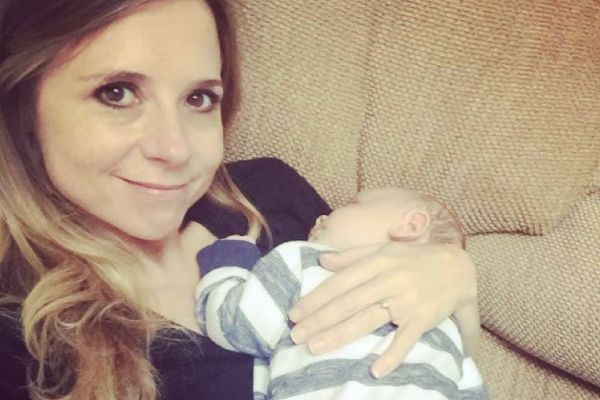 Former CBeebies presenter Sarah Jane Honeywell and her Hollyoaks actor husband, Ayden Callaghan, are expecting their second child.
The couple are already proud parents to two-year-old Phoenix, and revealed their exciting news in a trailer-style video. Ayden shared the video on Twitter, writing: "Some exciting news. Check out the vid."
The video, entitled "Coming soon – Little Bro", featured clips of their son, Phoenix, and his parents; and referred to his birth, as well as the impending arrival of the new baby.
The video featured important moments from the little boy's life, from his birth to his first birthday, before showing a photo of the scan and announcing "Phoenix's greatest challenge" – their second pregnancy!
The couple are expecting another little boy for February 2018.
Some exciting news. Check out the vid. x pic.twitter.com/0gkmf0b1zf

— Ayden Callaghan (@AydenCallaghan) September 3, 2017
Sarah Jane, who is 17 weeks pregnant, is thrilled given that the couple were told it would be impossible for them conceive naturally again, following complications from her previous C-section delivery.
The presenter said that announcing her pregnancy was a big deal as she was "nervous" about the pregnancy, having tragically suffered a miscarriage in 2014.
In the aftermath of the miscarriage, Ayden asked Hollyoaks bosses to remove a storyline about stillbirth from the show as he found it distressing.
Reflecting on that sad time, Sarah Jane said that the work opportunity came up for Ayden when they had "just started to feel OK about (their own loss)".

Sarah Jane also opened up about her experience of Hyperemisis Gravidarum during this pregnancy, on her blog.
The presenter was afflicted by the same severe morning sickness which Kate Middleton is also suffering from.
She explained how she was suffering from dizziness and nausea but thought "that it was normal pregnancy sickness".
"My head was even spinning when I went to lie down," she explained.
"I woke up the next morning to get ready to teach drama. I was sick as soon as I hit the bathroom. I then had a bath, and had to get out to be sick again. I tried to get ready, but my head was spinning and every five minutes I was sick (now nothing but clear bile coming of me)".
Sarah Jane's morning sickness became so bad that she had to be admitted to hospital and placed on an intravenous drip.
Shocked at how many ladies suffered with #hyperemesisgravidarum so many of u have contacted me already after my blog https://t.co/Pm0FDy6ciW

— Sarah Jane Honeywell (@sjhoneywell) September 4, 2017
Revealing the extent of her morning sickness, the presenter said: "My hair is falling out, my skin was peeling off, the whole thing has left me an utter mess.
"I don't think anyone can truly comprehend the devastating effect it has on you unless you've been through it.
"Most people say to have some ginger and dry crackers, but I think they have no idea just how hard it's been."
Thankfully, the sickness has now eased – we hope the rest of her pregnancy will be stress-free.