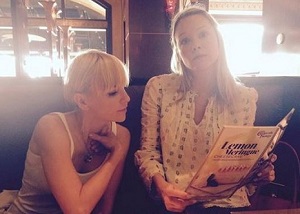 Given just how traumatic the birth of her first child was, we can completely understand why actress and mum-of-one Anna Faris would be apprehensive at the prospect of expanding her brood.
The 38-year-old, who is mum to two-year-old son Jack, spoke candidly about having more children with husband Chris Pratt.
Admitting that they are eager to add to their family, the Waiting star admitted that her difficult experience the first time around has made her nervous.
"We want to, very much so, but it will definitely be a whole new complication because now I'm, like, a high-risk pregnancy, so it requires some different monitoring," she told Health magazine.
Jack was born nine weeks before his due date, weighing only three pounds, and was in intensive care for a number of weeks afterwards.
A concerned Anna added: "I was having an uneventful, happy pregnancy, and so it was really a huge surprise that my water broke in the middle of the night. I wish we didn't have this biological clock. I'm thinking we have to start talking about [having more kids], looking at all kinds of options."
Anna added that Jack is "doing so well" now, describing him as a "happy, bright and funny" child.