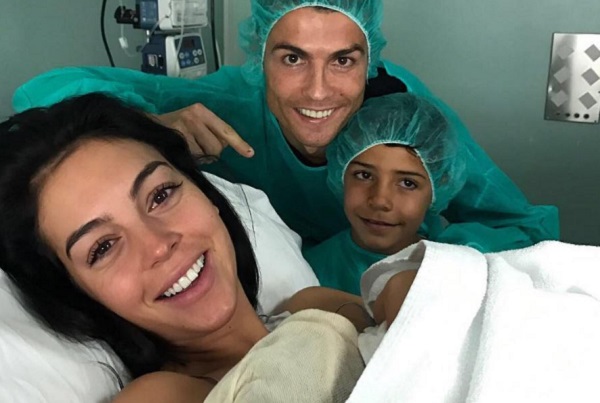 Cristiano Ronaldo has confirmed that his girlfriend has given birth to a baby girl. The dad-of-four shared the exciting news on Twitter on Sunday night.
He wrote, "Alana Martina just born! Both Geo and Alana are very well! We are all very happy!" alongside an adorable snap from the delivery room.
Georgina had plenty of support by her side as she delivered her first baby. In the photo, the football star is joined by his eldest son. Georgina can be seen grinning from ear to ear with her newborn daughter held close to her.
The baby girl is Ronaldo's fourth child. Earlier this year, the football star welcomed twins into his family through surrogacy.
He also has an older son- 7-year-old son Cristiano Jr- whose mother's identity is unknown.
We're sure Alana Martina will be adored by her older siblings. It is understood that Ronaldo chose the first name and his 23-year-old girlfriend Georgina picked the second one.
The couple shared the name and gender of their baby earlier this month during a live stream on Instagram.
The dad admitted that he thought it was an important milestone to share with his fans. He said, "I just wanted to share this with you. I think it is a beautiful name."
Georgina and Ronaldo have both shared that they want to have a big family. The footballer admitted that he would love to have at least seven children.
During her pregnancy, Georgina spoke about how excited she was to welcome her first child into the world. The model expressed her delight, "I'm a family person. I love children. I love surrounding myself with people who inspire me to be a better person every day, and who bring good energy."
Fans were overjoyed for the couple and showered them with well-wishes.
"Congratulations and many happy days with your family," wrote one fan.
One user joked about Ronaldo's growing family, "I guess he is in the process of building his own football team."
Another added, "Congratulations our soccer icon. I believe you are a great a dad and a footballer."
Fans were delighted for the doting dad, "Congratulations, best wishes for the newest member of your lovely family."
We are so thrilled for Ronaldo and Georgina. The parents met back in 2016 in Madrid. It is understood that Ronaldo and Georgina dated secretly for a few months before making their relationship public in November whilst they were on a magical trip in Disneyland, Paris.