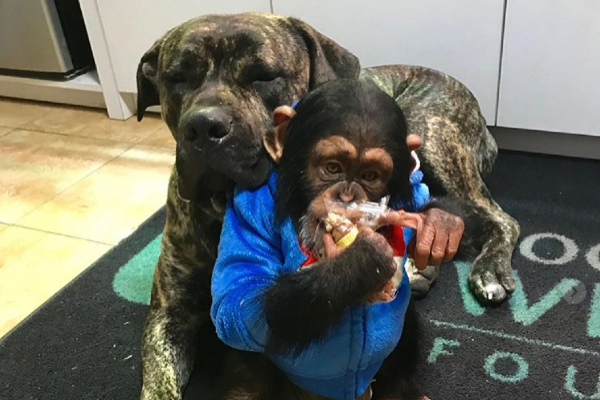 Picture via Instagram
You know what they say - a dog is chimp's best friend!
Unusual animal friendships always make us smile, and this one is no exception. Limbani, a chimpanzee at the Zoological Wildlife Foundation in Miami, and a Boerboel and African Mastiff mix named Bruno have become the best of friends.
The baby chimp was born with severe pneumonia, and his mum 'basically handed him over to their keepers', the wildlife sanctuary shared on their Facebook page.
However, Limbani gets plenty of love from his human carers, as well as his canine friend Bruno. "These boys are becoming inseparable," the Zoological Wildlife Foundation wrote in a recent Insta post.
We can't get over this video of the two play-fighting over a block of wood, with Limbani occasionally swooping in on a vine to steal the log. They're too cute!
We are going ape over their friendship!
Limbani and Bruno have been capturing hearts all over the world. The chimp even has his own Instagram account, with almost 80K followers!
Of course, despite his popularity, the sanctuary acknowledges that chimps are not pets. They hope that by caring for wild animals, they can bring the issue of conservation to the fore.
And Limbani certainly gets wild! The pair get into all sorts of antics, including the baby primate trying to wear Bruno's bowl like a hat!
And when it comes to bedtime for little Limbani?
Well, we don't think we could 'awwwwwww' any more.
We are all for more wholesome, unlikely friendships like theirs.