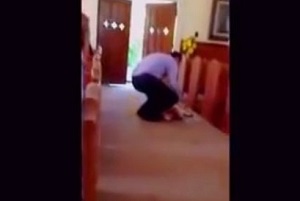 There are some moments that can just prove too nerve-wracking for a little one, and serving as a flower girl is one of those tasks that carries major pressure.
While some may take the honour in their stride, for one adorable little tot, her nerves proved too much when the big day rolled around.
Luckily for her, however, her dad was there to help her out, and thankfully, the sweet incident was captured on camera.
In a video which has gone viral around the world this week, the tiny flower girl is seen reluctant to walk down the aisle. Even with her dad encouraging her, she gets about halfway down and freezes, throwing herself onto the floor and screaming, 'No, daddy!'
So what does Dad do to solve the situation? Why, he picks up his little girl and assumes the role of flower girl himself, to rapturous laughter from the wedding guests!
This is guaranteed to give you a giggle. Check out the video below.