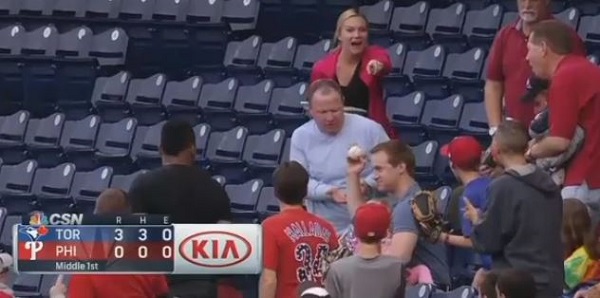 Dads are really superheroes in disguise – we can all agree on that much, right? Well, for those who might be in doubt, the following video has sealed it!
An eagle-eyed father has become a viral internet sensation this weekend, after making the most insane one-handed baseball catch – all the while holding his little girl!
Brian Kucharik was attending the Philadelphia Phillies versus Toronto Blue Jays game this week, when what can only be described as a twist of fate sent a baseball flying in his direction.
Although the ball came from miles out, and he was holding his daughter Emily on his lap, Brian managed to catch the ball IN ONE HAND!
As you can see in the now viral footage, shared by NBC, the crowd around Brian went wild – while he let on that it was really no big deal at all!
To get a sense of just how impressive Brian's skills are, just check out the reaction of the woman in the aisle wearing the pink jacket.
What a legend!
SHARE to remind everyone that dads are secret ninjas.