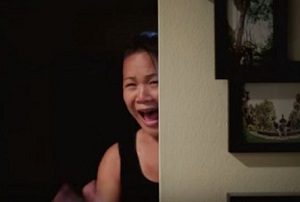 When it comes to pregnancy announcements, we've become accustomed to sonogram pictures, cake-cutting snaps and even musical parodies – but nothing could have prepared us for this couple's video.
When Gavin Holt was given free reign over his wife's pregnancy announcement, he decided to buck the 'sweet' trend for something a million times scarier.
While the footage starts off pretty normal, with Gavin and his wife showing off their new house, matters take a dark turn as strange things begin to happen in their home.
As chairs begin to move by themselves and Gavin's wife gets herself a spooky double, the video starts to look more and more like something from a horror film.
When icky red-orange liquid starts to creep down the front of the bathroom mirror, you might find yourself covering your eyes!
While this announcement video is pure genius, we think we'll stick to balloons and storks!