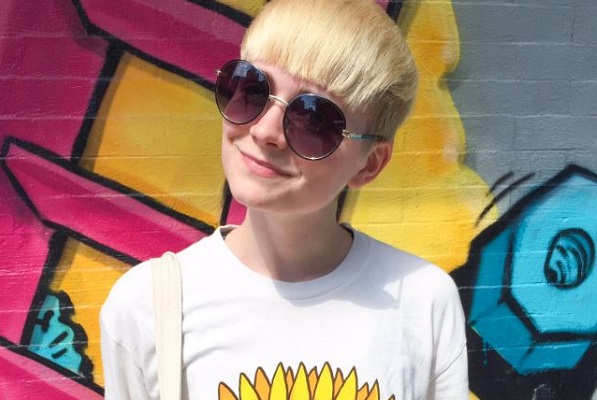 Mum-of-three, Trina Dye, gave up her career as a concert pianist to raise her kids as a single mother in LA.
Now her daughter, Morgan York, wants to encourage her to put herself first for a change.
"She gave up her career as a concert pianist to raise us," Morgan told BuzzFeed News.
My grandma bought this sweater for me in Alaska in 2013 and I justified it to myself by saying "one day I'll live somewhere cold so it won't be wasted." Good thing too because this thing is a lifesaver in NYC winter pic.twitter.com/pIEgmsxcXF

— Morgan York (@morganyorkwrite) 8 February 2018
Morgan, a children's writer, also had a brief career as a child actor in such noughties classics as Cheaper by the Dozen, Hannah Montana and The Pacifier. Now she wants her mum to pursue her dreams.
Her mother, Trina, who currently works in entertainment law, had previously returned to college after 23 years to finish her masters in piano performance.
She had initially put her school on hold as she was "worried about the time my continued education would take away from my kids," she said.
Nabbing what is now one of my favorite shirts before they sold out thanks to sheer luck #ALyearone pic.twitter.com/Pf3W6OIOMa

— Morgan York (@morganyorkwrite) 15 December 2017
Recently, she confided in her daughter about her fears of returning to college. While Morgan assured her that many people go back later in life to pursue education, Trina still wasn't sure.
"It didn't seem fair to me that she'd always supported my goals, as well as the goals of my siblings, but didn't know how to feel confident about her own," Morgan said.
"My mum's tireless encouragement of me pursuing my passions is a big part of the reason I believe my dreams are achievable."
So, wih her mum's permission, she took to Twitter with an experiment, to let the Internet encourage her mother.
My mom is in her 50s and is worried it's too late for her to get her PhD. RT if you think she should go for it

— Morgan York (@morganyorkwrite) 30 March 2018
So far the tweet has racked up nearly 117,000 retweets. Safe to say that's a big pro-PhD vote.
To restore our faith in humanity even more, many commenters shared their own experiences of returning to education.
I'm 64, started mine at 63 and just received IRB approval for my thesis. Hope to defend by March '19. Tell her to go for it. Leaders know lifetime learning is important.

— Mark Hertling (@MarkHertling) 1 April 2018
My father was 40 when he decided to go to med school. I was 5 yo at the time. At age 50 he decided he also wanted to go to seminary. I've never met anyone who loved learning more than him. His life was cut short by pancreatic cancer in his 60s. Tell your mom to #GoForIt!

— William Suh, MD (@willsuh76) 1 April 2018
I taught a medical student who graduated at 42 when I was his lecturer at 36. My father got his PhD in management of education at 65.

— Myzonedr (@DrMaizunOnG) 1 April 2018
Morgan tell your mom I didn't get my PhD until I was 45. Since then I've been Dept Head @ UCLA, Dean @ U of Cincinnati, now I'm Chancellor of SIU. It's never too late. It will take her 5 yrs, so at 55 she can have a PhD or not but she will still be 55. Live ur Life on ur terms!

— Carlo Montemagno (@MontemagNANO) 31 March 2018
i'm 56 and going back to school to be a veterinarian technician, my 78 yr old mom is graduating from university this year, with a BFA, photography. if your mom has the time & resources she should go for it.

— the trouble with tracy (@katgyrl) 31 March 2018
"It was completely overwhelming and amazing," Trina said about all the love coming from the tweet. "I was — and am — astounded by the amount of love and support from people of all ages. It is truly inspiring."
And while the pair are under no illusions about how much work goes into a PhD, Morgan is certain that her mum will smash it.
"If anyone can handle it, it's my mum. She's my hero."
Inspired by the kindness and wise words of strangers, Trina has since applied to a local graduate school.
They could not have been more supportive," she said of her kids.
"This process has reconfirmed my belief that people will always surprise us and that we are always inspired by those who make choices against the odds. It has also rekindled my belief in myself. "
To the helpful Internet strangers Trina said, "thank you" and "I will work my butt off to not let you down."
"To my daughter, I would like to say...I could not be prouder of you than I already am," she added.
Awh bless! We're so proud of her already!