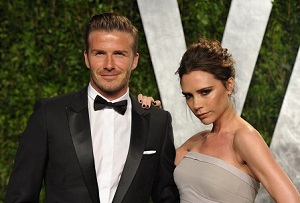 They have been at the centre of split reports over the past month, but David Beckham made his own feelings about wife Victoria known this week.
The former footballer, who recently supported Victoria at her New York Fashion Week show, was on hand to celebrate her Dover Street store's one-year anniversary last night.
Posting a photo of the mother-of-four to his Instagram page, showing her standing out in black against a sea of white balloons, the 40-year-old was ever the proud and doting husband in his accompanying message.
"Proud of what this young lady has done and achieved…Exciting night at Dover Street," wrote David.
The couple, who were accompanied by eldest son Brooklyn on the night, also posed for a loving shot for Victoria's official page.
While it's not the first time that they have encountered such rumours and reports, Victoria and David have found their 16-year marriage under intense scrutiny of late.
Sources have claimed that the pair are leading "increasingly separate lives", and that Victoria is unhappy with David's choice of friends.
While the couple have remained tight-lipped over the reports, a source close to the family last week branded the rumours "rubbish" and "nonsense".