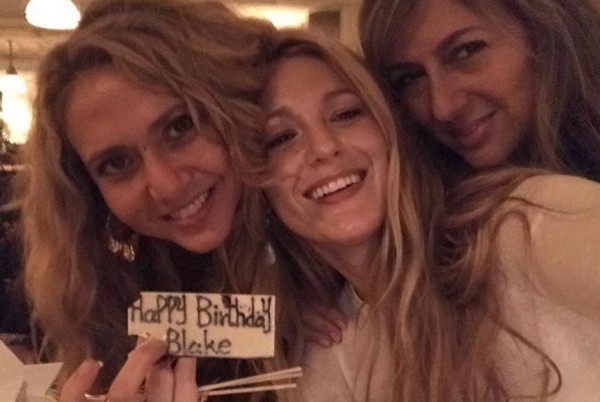 From her beautiful family life to her drool-worthy wardrobe and stunning good looks, it's safe to safe that Blake Lively is pretty much the dream – and so were her 30th birthday celebrations.
The star, who hit the milestone on Friday, marked the occasion with a low-key gathering with plenty of cake and some well-known faces.
Taking to Instagram to share snaps from her perfect evening, the Age of Adeline star described the evening as her 'super-sweet 16…but, like, 14 years late'.
Blake was joined by a host of friends including actress Anna Kendrick and world-famous jeweller Lorraine Schwartz (you know, the one who designed Kim Kardashian's engagement ring) for an intimate supper.
The gang enjoyed wine and cake, and it seems Blake – who is mum to two-year-old James and 11-month-old Ines – was tickled pink by her special evening.
In one shot, the star is seen beaming as she holds a bunch of balloons, sporting a stunning string of diamonds around her neck.
"Ummm. Thank you, Jacquie Aiche. Holy cow!!" she wrote, adding in diamond emojis and tagging the fine jewellery mogul.
"And thank you, sis, Robyn Lively, for the balloons! I'm totally gonna lie and tell everyone I'm turning 30 every week."
Blake's husband, Ryan Reynolds, had previously taken to social media to share a typically hilarious dedication to the birthday girl.
While wishing a happy birthday to his 'amazing wife', Ryan shared an iconic shot of them on the red carpet – only he had cropped out most of his wife's face!
These two are clearly very well-suited, with Blake leaving her followers in stitches with her own 'gratuitous birthday post'.
Blake, who is well known for having a very sweet tooth, posted a shot of herself amid cut-outs of cakes, cookies and flowers.
"Thank you to everyone who sent me treats and made my day SO SPECIAL! Love you all," she wrote.
"And to all my friends who didn't – you're dead to me."
Before we move on, here, can we just take a second to appreciate Blake's stunning birthday outfit? This woman can do no wrong!
Happy birthday, Blake!