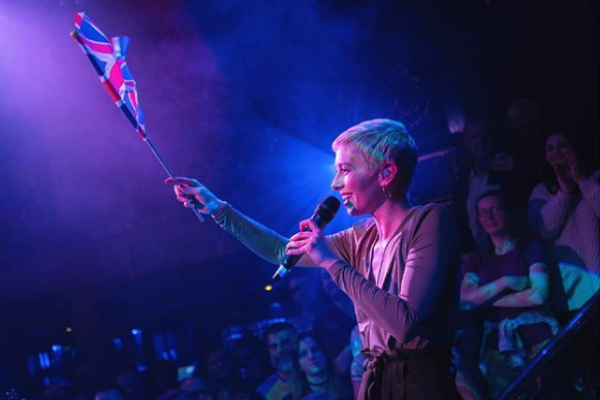 Picture via Instagram
This doesn't exactly come as a shocker, but placing well in the Eurovision Song Contest may be linked to people feeling really, really good!
The whole competition is full of things that bring smiles to our faces - glitter, singing, dancing, more glitter, and spectacular costumes (often covered in glitter).
A new study conducted by Imperial College London has found that the better countries do in the competition, the higher their citizens' life satisfaction.
Even completely bombing the contest was associated with better life satisfaction than not participating at all, the researchers found.
The results surprised the research team, who apparently decided to do the BMC Public Health-published study all because of a joke.
"This finding emerged from a jokey conversation in our department. Our 'day job' involves investigating the effect of public policies, environmental factors and economic conditions on people's lifestyle and health," Dr Filippos Filippidis, lead author from the School of Public Health at Imperial, told Science Daily.
"Our department employs people from lots of different countries and around the time of the Eurovision Song Contest we were chatting about whether the competition could also affect a country's national well-being. We looked into it and were surprised to see there may be a link."
In order to obtain these results, the team examined data from more than 160,000 people from 33 European countries.
The participants all completed a questionnaire that is part of the Eurobarometer survey, and which includes queries about the individual's life satisfaction.
The researchers then looked at the data from around the time of the Eurovision Song Contest from 2009 to 2015. Their results showed that people reported more life satisfaction if their country did well in the competition that year.
As well, the team found that a ten-place jump on the final scoreboard (say getting 4th place instead of 14th) was associated with a four percent higher likelihood of feeling satisfied with life.
To make matters more interesting, even people in countries that placed poorly had a 13 percent higher chance of life satisfaction than those whose countries didn't participate.
Picture via GIPHY
While the researchers emphasise that this is an association, not necessarily causation, they said that others' work shows how large national events can impact national morale.
"It increases the amount of good feeling around, even among people who are not particularly interested in the competition," Dr Filippidis observed, "I remember when Greece won in 2005 -- in the weeks that followed people seemed to be in a better mood."
Do you ever notice people's mood boosted around the time of Eurovision?