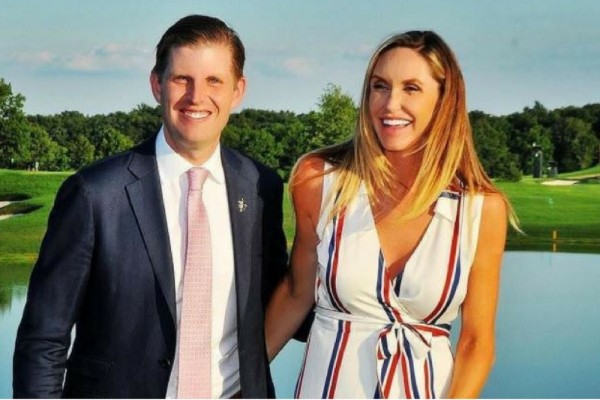 Donald Trump's son Eric and his wife Lara have announced the birth of their baby son.
34-year-old Lara shared a photo of her new arrival on Instagram and revealed his name.
Following in the Trump tradition, the little boy was named after his father Eric but the couple have decided to go by his middle name Luke.
"Happy birthday Luke", the new mum gushed. "We are so proud and blessed to be your parents".
Proud dad Eric followed up with a snap of his own of the newborn swaddled up fast asleep, writing: "Little Luke".
Eric took to Twitter to reveal that Luke arrived at 8:50 am yesterday morning.
"LaraLeaTrump and I are excited to announce the birth of our son, Eric "Luke" Trump at 8:50 this morning," he wrote.
He also posted a photo of himself placing a kiss on the tiny tot's head.
This is the couple's first child together and President Donald Trump's ninth grandchild.
His older son Donald Trump Jr., 39, and his wife, Vanessa, have five children while favourite daughter Ivanka Trump, 35, and her husband Jared Kushner, have three children.
The Trump family were quick to congratulate the new parents, posting their good wishes on social media.
Donald Trump sent his heartfelt congratulations from Washington DC, writing on Twitter: "Congratulations to Eric and Lara on the birth of their son, Eric "Luke" Trump this morning!"
New aunt Ivanka Trump wrote: "Welcome to the world baby boy, I can't wait to meet you".
Meanwhile, Donald Trump Junior wrote a more humorous message, congratulating his younger brother.
"Congrats buddy, welcome to the club", he wrote. "Now that the niceties are out of the way, it's older brother revenge for that drum set you sent to my kids!"
The birth of the little one was also announced at a White House briefing yesterday morning.
Press spokeswoman Sarah Huckabee Sanders announced the news, saying: "Finally, speaking of family, I wanted to say a big congratulations to Eric and Lara Trump on the birth of their son, Eric Luke Trump, this morning. We're all looking forward to meeting him soon".
Congrats to Eric and Lara!