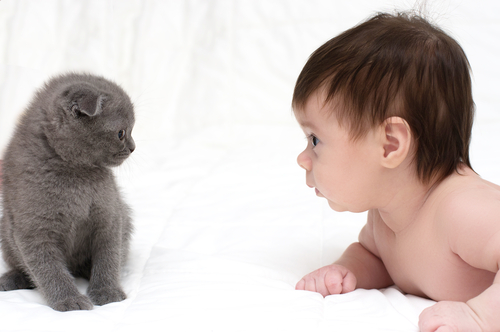 If you have a family cat, mums can often worry about whether it is ok to keep the pet when they have a baby. While cats are less likely to respond well to change, it doesn't mean you all can't live together happily and safely.
When you find out you are pregnant it is important you do all you can to prepare the cat for the impending arrival. Help them get used to noise: the sound of a baby crying, squeaky toys etc. This way, when the baby does arrive, they won't suddenly have to deal with sounds that will make them jump or become annoyed.
Never leave them unsupervised
Cats are unpredictable so you must never leave them alone with your infant. Even the most placid and friendliest of cats can turn when provoked or poked. Keep the doors closed when your cat is in the house and know where they are at all times. If possible, pop a bell on their collar so you can hear them coming and know where they are.
Protect the cot
Make sure your baby's cot is well protected to ensure the cat can't climb in when your infant is sleeping. While this is very unlikely to happen, it will at least put your mind at ease. Before you go to bed, make sure you know where the cat is and, if possible, lock them in a room with their bed and water so you know they won't be able to escape or climb up the stairs. Training them not to jump up on furniture is a great way to ensure they don't get into the habit of climbing on things.
Keep food and cat litter out of reach
Once your baby starts crawling around, it is vitally important you keep any cat food and cat litter out of their reach. Feed the cat outside and keep the litter tray in a room that your little one can't get in. A safety gate is a great way to ensure your cat can get at their food and that your baby can't.
Your cat's health
Make sure your cat is treated for worms and regularly checked for fleas. Also, try to ensure their claws are trimmed or offer them a scratching post to avoid any accidental scratching of baby.
Teach your baby
Teach your baby how to pet the cat correctly and how to handle them. Avoid them touching your cat's face or pulling the tail as the feline might jump at them in defence.
Cats can be a lovely addition to any family home and as long as you are careful, baby and pet can grow up having a mutual respect for each other.