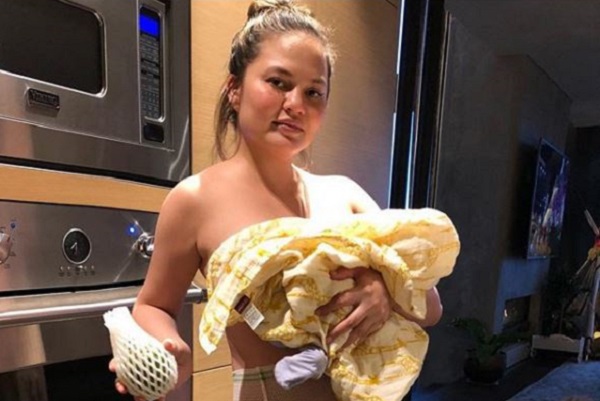 Chrissy Teigan has always been know for her refreshing honesty about the nitty-gritty of parenting that maybe isn't completely Instagrammable.
After giving birth to a baby boy, Miles, last week she has hit us again with a picture that brings us right back to those postpartum days.
Mesh panties- remember them? How could we forget them?
I can confirm postpartum life is 90% better when you don't rip to your butthole. Baby boy: 1 point. Luna: 0

— christine teigen (@chrissyteigen) 20 May 2018
And while she has shared that her birthing experience was slightly more pleasant this time around, mesh undies are a staple in every postpartum mum's wardrobe.
Teigan poses with the fresh mesh undies, holding baby Miles in one arm, as Luna causes mischief in the background.
Looks pretty much like us, tbh.
Her caption is a nod to comedienne and fellow mum Ali Wong's new Netflix series. During her stand up routine Wong likens the mesh underwear to the fancy wrapping that covers pears.
Once you see it, you can't unsee it.
However, those mesh pants days are so worth it, and Teigan will totally back us up on that.
She shared the first picture of little Miles just days ago and he is a little angel.
If there's one thing we can always count on Teigan for, it's for keeping it real about motherhood.
And we've gotta admit, we're all here for it!